A Diplomatic Tightrope: Taiwan's Stance on the Israel-Hamas War
Taiwan must stand up for Palestine, otherwise it may face the same fate as Gaza – and a potentially silent international community.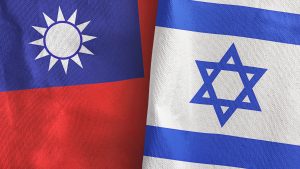 This Monday, the United Nations observed a moment of silence for the 101 staff members killed in the ongoing Israel-Hamas war. The death toll in the Gaza Strip has surpassed 11,000 people, with an average of one child killed approximately every 10 minutes. Despite Israel agreeing to 4-hour humanitarian pauses each day, the U.N. Security Council is unable to agree on a resolution urging a humanitarian ceasefire, although on November 15 it finally passed a resolution calling for "urgent and extended humanitarian pauses and corridors" in Gaza.
Israel's airstrikes have endangered foreign nationals from around the world – including from Taiwan. A Taiwanese physician working for Doctors Without Borders in Gaza was recently evacuated. More overseas Taiwanese are in danger if the war expands to involve additional countries. A broader, regional war in the Middle East may very well drain U.S. resources required to deter a potential Chinese invasion. 
Flattened hospitals, an encircled city, and an international community paralyzed by political deadlock – the scenes in Gaza could preview a potential invasion of Taiwan. Indeed, both Taiwan and Palestine face a neighbor with substantially more advanced military capabilities and increasingly nationalistic populations. One could imagine China preventing imports of food and energy to Taiwan through a blockade, as Israel has done in Gaza.
For all these reasons, Taiwan should join the bulk of the international community and stand up for the innocent in Gaza. This means condemning Israeli airstrikes on civilian infrastructure in the Gaza Strip and urging Israel to grant more access for aid. By calling out Israel's violations of international humanitarian law, Taiwan can enhance its reputation within the international community and the United Nations.
As the Israel Defense Forces (IDF) proceed with the ground invasion of Gaza, Israel's de facto embassy in Taiwan, the Israel Economic and Cultural Office in Taipei, has launched an effective diplomacy campaign. Taiwan's Ministry of Foreign Affairs (MOFA) publicly condemned Hamas in the wake of the atrocious murders and kidnappings of civilians in Israel. In response, Israel has called Taiwan a "good friend" of Israel and criticized China's response to the attack as "disturbing," likely targeted at China's criticism of Israel's military operations in Gaza and refusal to denounce the attack by Hamas.   
Public support from Taiwan has also poured in. Israel's representative office in Taipei exhibited flowers and gifts from the Taiwanese public, showing support for the innocent civilians kidnapped by Hamas. Maya Yaron, Israel's unofficial representative to Taiwan, publicly urged Taiwanese to recognize the conflict as a war against terrorism, rather than a war between two states. 
By framing China's foreign policies in a negative manner and applauding Taiwan's foreign policy position, Israel is well placed to continue cooperation with Taiwan. The bond between Taipei and Tel Aviv will certainly grow if China takes a stronger position accusing Israel. Such a shift could drive Israel to seek stronger partnerships with Taiwan, which also needs international solidarity.  
In contrast to its support for Israel, Taiwan, so far, has only offered Palestine aid through charitable organizations. While public events were organized by civil society groups to raise awareness, Taiwan's Minister of Foreign Affairs Joseph Wu refrained from publicly condemning Israel's violations of international humanitarian law when questioned by legislators.
Taiwan's relations with Arab nations could very well deteriorate due to Taipei's rhetoric backing Israel. This scenario creates a big obstacle to Taiwan's quest for greater participation in international organizations, seeing that China could utilize Taiwan's support of Israel to degrade its image as a nation who values international law.
As China poaches Taiwan's remaining diplomatic allies, the Middle East provides a large base of potential partners for Taiwan. Countries in the Arab League and Organization of Islamic Cooperation could serve as a formidable force for countering China's efforts to isolate Taiwan. As seen in their recent emergency meeting on the Palestine-Israel conflict, they have the capability to significantly complicate wars waged by disrupting oil supplies. Should a Taiwan conflict arise, allies in the Middle East have the capacity to enact devastating sanctions on China. 
Some might argue for closer Israel-Taiwan relations, on the logic of Taiwan's history of cooperation with the IDF. There is no doubt that, historically, Israel contributed to Taiwan's defense industry and military when the U.S. military refused to help. While Israel could provide valuable assistance to Taiwan's defense industry, Taiwan's largest arms sales are from the United States, not Israel.
Washington has been forward-leaning in its support for Israel. Following the October 7 attack by Hamas, the Pentagon deployed two aircraft carrier strike groups to the Eastern Mediterranean,      intercepted missiles potentially destined for Israel, and sent more than 2,000 laser-guided missiles and other ammunition to Israel. In addition, President Joe Biden and Secretary of State Antony Blinken have also expressed their rock-solid commitment to stand with Israel in this war during their trips to the country.
Taipei's reluctance to condemn Israel's behavior might well stem from fear that criticism of Israel could jeopardize relations with the United States, which is Taiwan's most important security partner. U.S. allies like Japan and South Korea face a similar dilemma, with their responses to the atrocities in Gaza curtailed by an unwillingness to break ranks with the United States. 
However, recent signs indicate U.S. support for Israel is reaching its limits. Biden has publicly called for the protection of hospitals in Gaza and "less intrusive action" from Israel. Additionally, signs of divisions within the Biden administration have emerged, with over 500 U.S. officials from various agencies petitioning Biden to oppose Israel's blocking of water, fuel, and other aid to Palestine. 
Moreover, growing pressure in Congress against unconditional aid for Israel was underscored on Tuesday when Senate Democrats blocked a House bill that would provide $14.3 billion in emergency aid for Israel. Public opinion polls also show a sharp decline in support for Israel compared to the beginning of the conflict and a rise in Americans preferring the U.S. to serve as a "neutral mediator."
With Congress, the American public, and the Biden administration divided over the appropriate response to the Israel-Hamas war, there is ample space for Taiwan to speak out more forcefully against violations of international law in Gaza. Considering Taiwan's security situation, it will be essential for Taiwan to carefully balance its diplomatic stance in alignment with rapidly evolving U.S. policies toward Israel. Urging Israel to prioritize precision military operations that reduce civilian deaths and to lift restrictions on the flow of humanitarian aid would not detract from Taiwan's support for Israel's right to self-defense and mission to prevent future terrorist attacks. 
Israel's striking of hospitals and blockade of humanitarian goods degrades well-recognized, international norms against collective punishment. Merely offering humanitarian aid does not suffice to demonstrate Taiwan's commitment to the international rules-based order. Supporting international law also does not in any manner contradict Taiwan's defense and foreign policy objectives. 
In the event of a Chinese invasion of Taiwan, the maintenance of food and energy supplies is crucial for Taiwan's self-defense. Bearing in mind the island's geography, any blockade that disrupts humanitarian supplies would severely impair Taiwan's military capabilities. Unlike Ukraine and Palestine, allies lack the option to deliver cargo and aid through a land border. The international community's opposition to collective punishment will deter China from employing a blockade against Taiwan.
Given the rising risk of war with China, the adherence to international law may one day save Taiwan. Taiwan must stand up for Palestine; otherwise it may face the same fate as Gaza – and a potentially silent international community.