After the Thaw, What's Next for Australia and China?
Xi called the recent visit by Albanese  "a new starting point" but a new starting point for what exactly?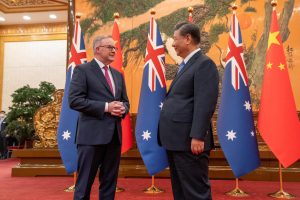 Earlier this month, Australian Prime Minister Anthony Albanese met with Chinese President Xi Jinping in Beijing, signaling a long-awaited thaw in Sino-Australian relations. After 18 months of careful diplomacy, each country is now ready and willing to work toward a productive relationship. Already barriers regarding trade are slowly being lifted; China is removing tariffs on Australian barley and wine, and Australia has stated that it will not block China's entry into the Comprehensive and Progressive Agreement for Trans-Pacific Partnership (CPTPP) while also removing its cases against China at the World Trade Organization (WTO). 
There is a question now, though, about what comes next. Xi called the recent visit "a new starting point" but a new starting point for what exactly? 
It is extremely unlikely that Australia will ever have a relationship with China as strong or as deep as with its traditional allies, the United States and the United Kingdom. There will never be that high level of cooperation, but that doesn't mean the relationship will remain a purely mercantile one based around agriculture products. There is an opening here to strengthen ties, not just to further enrich each country, but to also ensure greater peace in the Asia-Pacific region.
To establish a sturdier relationship, both countries have recognized the importance of face-to-face meetings at all levels. Alongside resuming yearly high-level diplomatic talks, both governments have agreed to create a new multi-entry visa that lasts for three to five years, to facilitate exchanges. It will help entice business people to travel and trade, as well as helping encourage more Chinese students to come back to Australian universities. More importantly it will help encourage tourism with both countries, letting Australian and Chinese citizens see first hand the true nature of each other's nation, undoing the fog laid down by their respective media that has been either eager or directed to stoke divisions. China and Australia will become real places to each other, instead of the twisted vision conjured up through three years of enmity.
Other signs of cooperation can be seen in the return of trade delegations traveling to each country. On November 13 in Melbourne, the Australia China Business Council co-hosted an event with the China Council for the Promotion of International Trade, welcoming a delegation from Zhejiang led by the province's vice governor. Key discussion points were renewable energy and electric vehicles, two industries in which China has established itself as a major exporter, as well as having dominated control over the relevant supply chains.
If the Australia government is truly willing to fulfill their own pledges of reducing toxic emissions and combatting climate change, then it is in these industries that they will be eager to cooperate. This includes include exporting lithium ore to China, which resulted in 11.7 billion Australian dollars' worth of trade in the first half of 2023, as well as collaboration in developing the infrastructure required to support electric vehicles. If Australia is to support the adoption of electric vehicles, then it will need China's expertise and experience in electrifying their public transportation.
Australia, in turn, can share its own green technology expertise such as the Soil Condition Analyses System, highlighted in both Australia's and China's media statement of the meeting, which can help reduce global carbon emissions. Through trade delegations such as these, common concerns and interests such as green technology can be found and turned into conduits for collaboration.
Another avenue for cooperation is the massive e-commerce ecosystem in China, where businesses and individuals are able to sell their wares online directly to customers. At the China International Import Expo, where Albanese gave a speech highlighting the possible opportunities of the Australia-China relationship, he was joined by over 250 firms from Queensland looking to sell Australian goods. The small- and medium-sized enterprises (SMEs) among them were particularly eager to utilize the e-commerce ecosystem, expanding their reach into China's massive market.
Some Australian businesses have already been able to take advantage of the lucrative ecosystem. Chemist Warehouse opened an online store on Tmall in 2015 and another on Kaola in 2019. Since then, they have been able to open physical stores in several Chinese cities. If other businesses are able to take a similar path as Chemist Warehouse and find success, it could mean a greater integration of the two economies, encouraging collaboration Australian SME and Chinese e-commerce platforms, again inviting more connection and strengthening the relationship.
There are pathways for the Australia-China relationship, ones that can lead them out of three rough years of frosty antagonism. While their differing cultures, politics, and values will always awkwardly rub up against each other, but that does not mean Australia and China should simply resign themselves to a transactional relationship. There is a foundation here for something more productive. With trade and tourism as a start, a good relationship can help endeavor a safer, more secure region.