Are We There Yet? Indonesia's Huge EV Challenge
Indonesia wants to increase its use of EVs but the cost of rolling out public charging stations is just one challenge.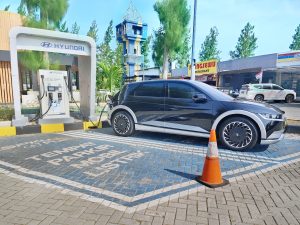 Indonesia has been ramping up its electric vehicle industry through a series of investments, but there is a lingering question over whether this will be enough.
Growth in the EV market has so far been bumpy yet exciting, helped by steady investment from the ASEAN region since 2019. It is expected to have a market share of $20 billion by 2030.
Tax incentives have had a fairly limited impact. And while there is a growing demand for EVs, the lack of supportive infrastructure is a significant roadblock. 
Similar to the rest of the world, "range anxiety" — the concerns about how far an EV can travel on a single charge and the consequent fear of being left stranded during a journey — is a major concern in Indonesia.
There are not enough public charging stations and the National Electricity Company, whose job it is to supply them, has been struggling to fulfill demand. 
It isn't helped by higher charging costs relative to home charging.
Consumers, however, are reluctant to install chargers at home because of the prohibitive cost of those. To install a charger means increasing electricity supply to a dwelling, adding more to the upfront cost of buying an EV.
In a bid to get more public charging stations, the National Electricity Company has opened public-private partnership opportunities in the creation of the charging stations, with an investment value of 342,000,000 Indonesian rupiah ($21,859) per station. 
The Ministry of Energy on Mineral Regulation and Mineral Development has set a maximum value to service costs to ensure consumer affordability of electric charging, by imposing maximum service costs of 25,000 rupiah ($1.60) for fast charging facilities and 57,000 rupiah ($3.64) for ultra-fast charging facility.
In 2023, the Ministry of Finance Regulation set a Value-Added Tax (VAT) of 11 percent on EVs, the bulk of which — 10 percent — is met by the government. That means consumers pay just 1 percent
At the same time, it ruled that only EVs with a specific amount of local content could apply for the incentives. Four-wheeled vehicles and buses are required to have local content requirements between 20-40 percent.
These incentives follow on from a 2019 move to lower the Luxury Goods Sales Tax on electric and hybrid vehicles relative to combustion engines.
Both of these moves have sparked more interest in EVs and there has been an increase in sales in 2023.
One lingering issue for Indonesia's EV strategy is where the power comes from to keep them on the road.
Coal-fired power plants make up 43 percent of Indonesia's primary energy supply for electricity. The adoption of electric vehicles would not be more environmentally friendly as the electricity is still being generated by fossil fuels.
But the government is committed to phasing out coal. The National Energy Policy has set coal to a minimum of 30 percent in 2025 and a minimum of 25 percent in 2050 with an increase of renewable energy contribution to a minimum of 23 percent in 2025 and 31 percent in 2050. The expectation is that renewables would replace coal in electricity generation over time.
For now, though, more incentives might be the way to build the much-needed infrastructure Indonesia needs for greater EV use.
Under current regulations, it seems that a lack of incentives for businesses to partner with the National Electricity Company means it bears a huge financial and technical burden in building charging stations.
The question of who pays and how will need to be answered as Indonesia transitions from coal to renewables and encourages drivers to go electric.
Originally published under Creative Commons by 360info™.