Biden Avoids Trade Deals While Promising a Better Economic Relationship With Asia
With IPEF, the U.S. administration is hoping to sidestep domestic politics while addressing issues such as supply chains and climate change.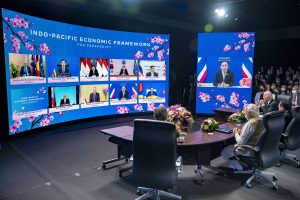 U.S. President Joe Biden is nurturing economic ties this week with Asia, but he is not signing any trade deals at a regional summit in San Francisco.
This fact – no trade deals – reveals much about the status of U.S. politics, the evolving global economy and the Biden administration's ambitions. U.S. negotiators say they have finalized agreements with 13 other countries on three parts of the Indo-Pacific Economic Framework. The operative word is "framework," a label that allows Biden to bypass Congress in reaching agreements in IPEF (pronounced EYE-pef).
"It's a framework because the administration wanted to have something it could do by executive agreement," said Robert Holleyman, a former deputy U.S. trade representative.
Many U.S. voters have negative opinions about trade deals they see as having caused industrial job losses, a prevailing sentiment in the 2016 presidential election that carries over to next year's 2024 race. IPEF can partially fill that gap by sidestepping some of the domestic politics while addressing issues such as supply chains and climate change that have historically been outside trade deals.
What Is IPEF?
Biden formally announced IPEF during a May 2022 trip to Tokyo. It has four major pillars: supply chains, climate, anti-corruption, and trade.
Besides the U.S., there are 13 members in IPEF that represent 40 percent of global gross domestic product. The other members are Australia, Brunei, Fiji, India, Indonesia, Japan, South Korea, Malaysia, New Zealand, Philippines, Singapore, Thailand and Vietnam, according to the U.S. government. Members are free to engage – or disengage – on any of the four pillars. India, for example, has been reluctant to sign on to the trade pillar.
"We're writing the new rules for the 21st century economy," Biden said when the initiative was unveiled. But unlike a traditional trade deal, the framework is not about expanding market access or laying out penalties for unfair practices.
The trade pillar is being overseen by U.S. Trade Representative Katherine Tai; the other three are under Commerce Secretary Gina Raimondo.
The United States and its partners are announcing a signed agreement on supply chains and agreements in principle on climate and anti-corruption, while negotiators work through parts of the trade pillar, according to people who are tracking the talks.
Raimondo told reporters on a call that the U.S. had largely been absent from the Indo-Pacific and that the coronavirus pandemic showed that supply chain problems could damage the American economy.
"We all learned during COVID that supply chain disruptions can hurt American workers," Raimondo said. "And that's exactly why the president said we need to get back into the region with our partners in the Indo-Pacific."
What's in the IPEF Agreements?
Matthew Goodman, director of the Greenberg Center for Geoeconomic Studies at the Council on Foreign Relations, said before the leaders' meeting that the White House has been "signaling" the terms of the various agreements. Each pillar is negotiated separately.
On trade, there will be some language on agriculture and expanding trade relationships. But the major issues of labor, environmental standards and rules for digital companies are still being negotiated.
Senator Sherrod Brown, a Democrat representing Ohio, objected to the trade pillar in part because of a lack of worker protections, prompting the administration to not move forward with an agreement on the issue. Brown is up for reelection next year in an increasingly Republican state that identifies with its industrial heritage.
"Instead of negotiating trade deals behind closed doors, we should be working to strengthen enforcement so that American workers can compete on a level playing field," Brown said.
The U.S. government has suggested there will be an agreement on the other three pillars. Raimondo said the United States signed the supply chain agreement and the countries had reached an agreement on principles on the climate and anti-corruption elements. She said negotiations were concluded on an "overarching" agreement among members that would create a forum for ongoing work together.
"This is meant to be an enduring arrangement, an enduring durable framework," said Raimondo.
The climate pillar includes an economic cooperation component to help support IPEF countries that are moving away from fossil fuels to cleaner forms of energy. The anti-corruption component has legally binding commitments that would improve the transparency of administering taxes.
The commerce secretary stressed that the agreements were just a beginning. There will be a $30 million fund on climate-related projects and an investor forum for clean energy technologies, as well as a private-public partnership to bring investments into the region.
"It's the starting line, not the finish line," she said.
Why Trade Deals Are Unpopular
Many U.S. voters say past trade deals caused the loss of factory jobs that hollowed out their hometowns. The administration agrees.
The 2016 presidential election was a landmark event on rejecting trade pacts. Both party's candidates, Republican Donald Trump and Democrat Hillary Clinton, walked away from the Trans-Pacific Partnership, a 12-country free trade pact championed by the Obama administration as essential for maintaining U.S. influence in the Asia-Pacific. As president, Trump formally withdrew from the TPP, and revised the existing trade deal with Canada and Mexico, while raising taxes on a range of imports and starting a trade skirmish with China.
Trade deals offer the prospect of cheaper goods and geopolitical stability, a prospect that was also somewhat undermined as the coronavirus pandemic exposed fragile supply chains that were overly dependent on China. Biden has sought to find alternatives to Chinese factories while maintaining the tariffs that Trump imposed on Chinese goods.
In a June speech, Tai criticized past trade deals.
"If we look at what those agreements did, we see the ways in which they contributed to the very problems we are now trying to address," said Tai. She emphasized that "our new approach to trade recognizes people as more than just consumers, but also producers – the workers, wage earners, providers, and community members that comprise a vibrant middle class."
Trade deals also take years to negotiate and even longer to finalize across presidential administrations. The United States' last new trade deal was signed with South Korea in 2007 and went into force in 2012. By comparison, IPEF is moving a speedy clip as agreements are being announced after less than two years.