Biden, Xi Hit the Reset Button on China-US Relations. Can It Last?
The biggest outcome from the meeting was a promise to keep talking on a whole host of issues. But that achievement shouldn't be underestimated.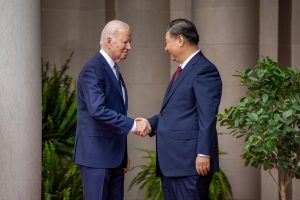 Chinese President Xi Jinping and U.S. President Joe Biden held a much-anticipated summit on Wednesday, on the sidelines of the ongoing APEC summit in San Francisco. It was their second in-person meeting since Biden took office in January 2021, and Xi's first trip to the United States since 2017.
According to Biden, their discussions on November 15, which stretched for some four hours, "were some of the most constructive and productive discussions we've had."
Chinese Foreign Minister Wang Yi, in his briefing to the press, called the summit "strategic," "historic," and "direction-setting," a summit of "strategic significance and profound influence."  
The main focus of the summit was a bird's eye view of China-U.S. relations: setting the tone for the relationship moving forward. The United States sees China as its top "strategic competitor," a label China has been keen to shed by insisting it is instead a cooperative partner. 
According to Wang, the two sides came away from the meeting agreeing on seven basic principles for handling China-U.S. relations: mutual respect, peaceful coexistence, maintaining communication, preventing conflict, abiding by the U.N. Charter, cooperating on common interests, and responsibly managing competition. The latter two are points repeatedly reiterated by the Biden administration; the rest reflect China's desire to further flesh out what "responsible" competition actually looks like.
As expected, neither side is actually changing their position. Both readouts contained lengthy sections of Biden and Xi simply reiterating their positions on long-standing issues of tension, from Taiwan and export controls (for China) to human rights and "freedom of navigation and overflight" (for the U.S.). 
China, in particular, repeatedly spoke of its "red lines," with a sense of frustration that shone through even in the official read-out: "China is consistently committed to having a stable, healthy and sustainable relationship with the United States. At the same time, China has interests that must be safeguarded, principles that must be upheld, and red lines that must not be crossed." Later, Xi repeated that both sides must "appreciate each other's principles and red lines, and refrain from flip-flopping, being provocative, and crossing the lines." Obviously, in Xi's mind, it's the United States that is "crossing the lines." 
Despite still-palpable tensions, there were some deliverables. Most notably, China and the United States are setting up a new working group on "ongoing communication and law enforcement coordination on counternarcotics issues." That's been a key priority for the United States as it battles the fentanyl crisis – many of the chemical ingredients for which are exported from China. In his post-summit press briefing, Biden went farther, claiming that "we're taking action to significantly reduce the flow of precursor chemicals and pill presses from China to the Western Hemisphere," and thanked Xi for his "commitment on this issue." China's read-out simply mentioned that dialogue was resuming on the issue, without any commitments made.
Another highlight was "the resumption of high-level military-to-military communication, as well as the U.S.-China Defense Policy Coordination Talks and the U.S.-China Military Maritime Consultative Agreement meetings." This has been another long-standing U.S. goal, as it seeks to increase the options for defusing a crisis as the number of encounters between Chinese and U.S. military ships and aircraft increase – almost always in China's near seas.
China's readout mentioned these developments as well, but with the caveat that these military contacts are being resumed "on the basis of equality and respect." That leaves room for China to slam the door shut again if it feels "disrespect" from the United States.
In Biden's words, the military-to-military agreement means "we're back to direct, open, clear, direct communications." However, there's a long history of U.S. military officials not being able to get in touch with their Chinese counterparts, despite having mechanisms in place to do so. The Associated Press described the problems with military "hotlines" back in February 2023: 
It took decades of Washington pushing to get Beijing to agree to the current system of military crisis communications, said David Sedney, a former deputy assistant secretary of defense who negotiated it.

"And then once we had it in place, it was clear that they were very reluctant to use it in any substantive purpose," Sedney said.

Americans' test calls on the hotline would get picked up, he said. And when Americans called to give congratulations on some Chinese holiday, Chinese officials would pick up and say thanks, he said. Anything more sensitive, Sedney said, the staffers answering the phone "would say, 'We'll check. As soon as our leadership is ready to talk, we'll get back to you.' Nothing would happen."
The two sides also agreed to start a new dialogue mechanism focused on "risk and safety issues associated with artificial intelligence" – carrying on from their joint participation at the AI Safety Summit hosted by the United Kingdom in early November. China and the United States are both angling to lead global governance efforts in this emerging field, but buy-in from both will be critical to any successful efforts. 
China and the U.S. are also eyeing reinvigorated people-to-people ties, including "the expansion of educational, student, youth, cultural, sports, and business exchanges." That will be enabled by a practical step: "a significant further increase in scheduled passenger flights early next year." Direct flights between China and the U.S. plummeted to zero during the pandemic and have bee slow to recover; even now, nearly a year after China dropped its zero-COVID policy, the number of China-U.S. flights is only about 20 percent of pre-pandemic levels. That creates an obvious bottleneck for any people-to-people exchanges. 
China and the U.S. are also going to start negotiations on renewing the China-U.S. Science and Technology Cooperation Agreement (STA). First signed in 1979 just after the two sides normalized ties, the STA has been renewed every five years since – until 2023. It was set to expire over the summer, amid lingering suspicions about China "stealing" U.S. scientific research. The Biden administration agreed to a six-month renewal at the end of August, which it said was intended to buy time " to undertake negotiations to amend and strengthen the terms of the STA."
It must be said that much of the "progress" is undoing damage done in recent years. In particular, the main announcements saw the resumption of dialogues that China had scrapped in the aftermath of then-U.S. House Speaker Nancy Pelosi's visit to Taiwan in August 2022. 
Biden and Xi also discussed global hotspots: the Russia-Ukraine war, the Israel-Hamas war, the South China Sea, and Taiwan. No breakthroughs were announced or expected; its likely that both sides simply reiterated their existing positions. 
On Taiwan, the White House readouts said Biden emphasized "the importance of peace and stability in the Taiwan Strait." But based on his comments in the press conference, it doesn't appear to have been a top agenda item. Biden said he emphasized that the United States maintains a "One China policy… and I'm not going to change that…. That's about the extent to which we discussed it." 
Xi, of course, devoted more time to outlining China's stance on Taiwan, demanding that "[t]he U.S. side should take real actions to honor its commitment of not supporting 'Taiwan independence', stop arming Taiwan, and support China's peaceful reunification." He added, "China will realize reunification, and this is unstoppable."
Human rights was also in the readout, but doesn't appear to have been a major focus, either. Biden did specifically mention the issue of detained U.S. citizens, a major focus of U.S. legislators in the lead-up to the summit. Biden emphasized that he had given Xi "names of individuals that we think are being held, and hopefully we can get them released as well. No agreement on that."
Overall, the main achievement of the meeting is that it happened at all, and both sides came away with a positive view.
"We're talking to our competitors… and just talking, just being blunt with one another so there's no misunderstanding is a key element to maintaining global stability and delivering for the American people," Biden declared. China and the United States will keep "talking," including at the top level. The two presidents "agreed that either one of us could pick up the phone, call directly, and we'd be heard immediately," Biden said. 
China's Foreign Ministry summarized the meeting as "positive, comprehensive and constructive." Its readout concluded by staying the summit "has charted the course for improving and developing China-U.S. relations. And San Francisco should be a new starting point for stabilizing China-U.S. relations."
Between the meeting itself, the outcomes, and – perhaps most importantly – the immensely positive signaling coming out of Beijing, the China-U.S. relationship looks to be on a stable course, at least for now. With elections looming in Taiwan and the United States, and crisis unfolding across the global, both sides are keen to see their bilateral relationship on more stable ground. 
In a telling sign of the many other concerns at play, of the six questions asked to Biden during his post-summit press conference, three dealt with the Israel-Hamas conflict – not with China.