China and Saudi Arabia: A Partnership Under Pressure
As war returns to the Middle East, what are the implications for the relationship between Saudi Arabia and China?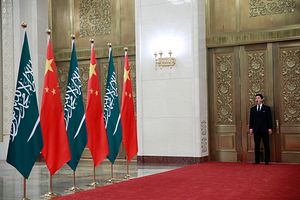 Children in Saudi Arabia are committed to learning Chinese. The Ministry of Education has instructed all public and private secondary schools to teach Mandarin for at least two lessons per week. Teaching may soon be expanded to encompass universities and primary schools.
The language classes have been mandated by Saudi Arabia's powerful de facto leader, Crown Prince Mohammed bin Salman, who is pursuing a vision to build a "comprehensive strategic partnership" with China. In August 2023, Saudi Arabia was invited to join the informal BRICS pact, which includes China, Brazil, Russia, India, and South Africa.
The Crown Prince's vision for Saudi Arabia encompasses all parts of the economy but places a special emphasis on diversifying the economy away from oil.
The Chinese claim they are ideally placed to help realize this goal, emphasizing opportunities in infrastructure, and the transition to green energy. In the first half of 2022, Saudi Arabia received $5.5 billion in investment and contracts through China's Belt and Road Initiative, more than any other country, according to the Economist. 
Recent investment agreements cover technology, renewable energy, agriculture, real estate, minerals, logistics, tourism, and healthcare. Chinese manufacturers of electric vehicles, such as Zhejiang-based Enovate Motors, have been welcomed to the kingdom, in contrast to the frosty reception they have received in the United States and Europe.
Yet the recent tension in the region worries investors. On October 7, Hamas launched an unprecedented attack on southern Israel, killing over 1,400 and taking over 200 people hostage. In response, Israel has pursued a relentless bombing campaign on Gaza, vowing to wipe out Hamas entirely. But Israel's tactics – especially restrictions on imports of food, water, and fuel – and the mounting civilian death toll have sparked growing concern from the international community. As of this writing, the Gaza Health Ministry has reported over 13,000 killed in the fighting since October 7, including over 5,500 children.
China's Foreign Minister Wang Yi has said that his country is deeply concerned about the continued escalation of the conflict and the large number of civilian casualties, according to the Ministry of Foreign Affairs.
His remarks coincided with a warning of a "likelihood of escalation" issued by U.S. Secretary of State Antony Blinken.
After the oil price hit $92 per barrel, China's special envoy to the Middle East, Zhai Jun, toured the region, in an effort to ensure that energy supply chains are maintained. China is the world's largest buyer of crude oil. More than 50 percent of its oil is imported from the Gulf Cooperation Council; 18 percent comes from Saudi Arabia alone.
The October 7 attack by Hamas on Israel – and the subsequent response by the Israel Defense Force – came as the Biden administration was seeking to broker a historic deal between Saudi Arabia and Israel, which it hoped would stabilize the region.
China directly competes for influence in the Middle East with the United States. While the Trump and Biden administrations have been enthusiastically pro-Israel, China has been associated with the Palestinian cause.
However, according to Galia Lavi, researcher and deputy director of the Israel-China Policy Centre in Tel Aviv, there are limits to Beijing's commitment. "China has put itself in a difficult spot," Lavi said. "Over the years, it has offered the Palestinians little genuine assistance. China has no investments in the Palestinian Authority areas, trade is very low, and humanitarian aid to the Palestinians falls considerably behind aid from other countries. 
"But rhetorically, China made sure to pay lip service to the Palestinians, mainly to please the Arab countries. Therefore, when the Hamas terrorists massacred Israeli civilians in horrific atrocities, China failed to recognize the magnitude of the event and launched its typical 'neutral' response."
According to Lavi, since the war began, high profile visits to Israel by not only Blinken but also U.S. President Joe Biden have shown that "the U.S. has not departed from the region, contrary to China's claims in recent years." By contrast, Wang has not visited, and China's top leader, Xi Jinping, has not held a single phone call with any regional leader.
"Arab countries can now see who can be trusted in times of need. And it is not China, which has made itself almost irrelevant," Lavi argued.
The ground invasion of Gaza by the Israel Defense Force (IDF) has been the subject of intense debate among diplomats and political leaders.
Saudi Arabia initially took a more tolerant line toward Israel than other Arab states, but appears to be growing more critical as the IDF campaign intensifies.
Jesse Marks, a nonresident fellow at the Stimson Center, told The Diplomat that it will be difficult to salvage a normalization of Israel-Saudi relations if Israel's operations in Gaza continue for a long time.
He also believes that China is likely to side with Arab countries in condemning Israel, while maintaining a public posture calling for de-escalation. In Marks' view, China is trying to prevent its other partner, Iran, from being drawn into the conflict.
"A lack of progress on the Palestinian question has remained the single largest spoiler to the broader range of normalization agendas and rapprochements undertaken this year," Marks pointed out. "It is well known among Middle East scholars that any major project, from normalization to economic corridors, will provoke the question 'what about the Palestinians?' This highlights the difficult balancing act for both Saudi Arabia and China."
An unusual characteristic of Saudi Arabia is its willingness to partner with both the United States and, to a lesser extent, China on security issues. In October 2023, the Saudi and Chinese navies took part in joint drills under the banner Blue Sword, which were held in Zhanjiang in Guangdong province, according to the Chinese military's official newspaper, PLA Daily.
Yet despite these links to China, Saudi Arabia is unlikely to forego its close political and strategic relationship with the United States, according to Mercy Kuo, geopolitical risk advisor at Pamir, a global risk consultancy based in Washington.
"America is the primary guarantor of Saudi Arabia's security," she said. "There are more than 2,700 American military personnel in Saudi Arabia and the U.S. Air Force has five bases which provide air and missile defense capabilities."
Kuo said that if the Israel-Hamas conflict escalates, Saudi Arabia will look to the United States for protection, because Washington remains the paramount military presence in the Middle East. In the broader geostrategic competition between China and the United States, Kuo explained, "Beijing is using the Israel-Hamas conflict to signal China's assurance of support for Arab states that positions China as an alternative counterweight to U.S. leadership in the region. 
"Under such pressures Saudi Crown Prince Mohammed bin Salman will likely emphasize shared interests between Saudi Arabia and China in mitigating destabilizing forces that protracted conflict would inflict on the region, where Beijing and Riyadh converge on advancing long-term economic and geopolitical interests."