Does India Have an Assassination Program?
While New Delhi denies any involvement in extraterritorial killings, mounting body counts of anti-Indian militants overseas raise suspicions to the contrary.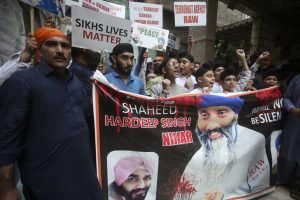 The assassination of Hardeep Singh Nijjar, a Canadian national and Sikh separatist leader who was designated a terrorist by India in 2020 and was the chief of the Khalistan Tiger Force, has sparked a diplomatic standoff between the two nations. Canadian Prime Minister Justin Trudeau has pointed the finger at India, insinuating official involvement in Nijjar's murder, which took place in British Columbia in June. The Indian government has labelled these grave allegations as "absurd" and has criticized the Canadian probe into the killing as "tainted."
The international intrigue that has enveloped the Nijjar case is not without precedent. Still, it stands out starkly against several other killings that have failed to capture the global spotlight with the same intensity.
The Nijjar killing has not only brought the issue of international sovereignty to the fore but has also cast a shadow over the bilateral relations between Canada and India, raising concerns about the potential impacts on trade and investment. The Indian high commissioner in Ottawa, Sanjay Verma, accused Canada of conducting a prejudiced investigation into Nijjar's murder, hinting at a lack of transparency and fairness in the proceedings.
Amid the diplomatic tumult, India's external affairs minister summoned the Canadian envoy, leading to the expulsion of a senior Canadian diplomat from India. This move followed hot on the heels of Canada's decision to expel Pavan Kumar Rai, the Ottawa station chief of the Research and Analysis Wing (RAW), India's external intelligence agency, amid allegations of the Indian government's involvement in the assassination of the Khalistani activist. India further upped the ante by demanding Canada cut its diplomatic presence in India by more than two-thirds.
In what can only be described as a rapidly escalating diplomatic feud, Trudeau's failure to provide hard evidence and the lukewarm response of his allies in the Five Eyes intelligence alliance has only fortified New Delhi's resolute dismissal of the accusations. 
Not everyone is buying India's denials, though.
"I think there is substance in the allegation because, you know, Canada is a great friend of India," decorated war veteran and member of the Pugwash Conferences, Lt. Gen. Talat Masood, said from Karachi. "And Trudeau is also a great friend of India. And he would never, never say something against India unless he's 100 percent sure. In fact, I think he's showing his extreme disappointment at the fact that India committed such a crime in a friendly country."
When asked about why he calls Canada "a friendly country" for India, despite Canada having been a safe haven for those who seek an independent Khalistan, Masood said: "Well, there are a lot of people all over the world, especially in the Western world, where they have serious differences with the government of Pakistan, of India, of Bangladesh, and other countries. And this is a general pattern. It's not that they encourage these people to come over there – the ones who are against India or another country. But if they think they are otherwise normal, they do not hesitate to – I wouldn't say welcome them, but they tolerate them."
India has publicly denied any involvement in Nijjar's killing, a line echoed by every senior military, international relations, and clandestine operations person The Diplomat reached out to.
Curiously though, amid the denials there is no shortage of those pointing fingers at Canada for pandering to the Khalistanis. 
"We have presented evidence to Canada time and again," Aravind Hippargi said, rebutting the suggestion that India hasn't taken the legal route in addressing its concerns about Nijjar. Hippargi was, until very recently, a top operative of RAW. 
"I won't confirm or deny anything about the Nijjar assassination, but I can say with authority that we have even presented videos of Nijjar and other Khalistanis shooting automatic weapons in what appears to be British Columbia," Hippargi said. "These are not things we present as recorded evidence to the civilian government but as part of back-channel intel exchange."
From podcasters to political influencers and reporters close to the Indian establishment have been quick to hit back at both Canada and its Western allies for being hypocrites – in a way that implicitly accepts that India was guilty in this case.
"The West has been the biggest violator of the so-called international rules-based order," said Hippargi. "They carry out assassinations wherever and wherever it likes, but then turn around and cry human rights when India does it? All big nations do it. Russia, too, did what they did with the poisoning in London, right?"
"Absolutely – you're 100 per cent right," Masood said when this reporter pointed out that under the leading light of liberal, democratic values, Barack Obama, the United States launched its most extensive extraterritorial assassination program. "So there is a lot of difference between what they preach and what they practice."
With India denying the accusation and Canada providing no hard evidence, the Nijjar murder isn't likely to throw up any smoking guns. However, what's worth noting is the uncanny resemblances between Nijjar's assassination and the killing of another Sikh separatist, Paramjit Singh Panjwar of the Khalistan Commando Force, who was gunned down in Lahore on May 6 of this year.
The methodical precision of these attacks – both men were executed by motorcycle-riding gunmen in plain clothes using small arms for quick, targeted killings – is hard to ignore and suggests a pattern that goes beyond mere coincidence.
Both Nijjar and Panjwar, once at a stalemate in their separatist activities, had found renewed vigor in their cause following the farmers' protests and the resurgence of pro-Khalistani sentiments. Their heightened visibility in the media and calls for armed resistance against India, as well as their appeals for international alignment with Pakistan against India, painted a stark crosshair on their heads.
Hormis Tharakkan, a former RAW chief, refused to comment when contacted for an interview. But to a question about whether or not India has a history of assassinations abroad, he responded with a short message: "There is no history, Sid!"
But a former Af-Pak operative of RAW had a different story to tell.
"Bashir was a message sent to Hafiz Saeed," Samrat Upadhyay had said in an in-person interview with this reporter several years back. "The message was simple: we can hit you when we really want to."
The Bashir to whom Upadhyay was referring was Khalid Bashir. He served as the chief security officer for Hafiz Saeed, leader of the Pakistan-based Islamist group Jamaat-ud-Dawa (JuD), and its military counterpart, Lashkar-e-Taiba (LeT). 
Bashir's role was pivotal, not just in overseeing the security of Saeed but also in coordinating the movements of a man who had been designated a terrorist by the United Nations and accused by India of orchestrating the 2008 Mumbai attacks.
Bashir's loyalty to Saeed and JuD was deep-rooted, having joined the organization about 25 years before his death. Over the years, he had ascended to the rank of head of security, becoming an integral part of the group's operations.
His assassination on May 19, 2013, sent shockwaves through the Pakistani political and military establishment.
Bashir left his home after a mysterious phone call from someone he was close to. On May 19, his body was fished out from a canal marked with signs of torture.
Bashir's killing was left unsolved. Despite a major investigation by Pakistan and accusations made against India, no evidence of who made the crucial phone call or who killed Bashir was ever found.
And while the global media has focused sharply on the assassination of Hardeep Singh Nijjar, little has been written about Bashir's case – or another series of killings in Pakistan. These killings are linked to the infamous hijacking of Indian Airlines flight IC-814 on December 24, 1999.
Now, decades later, those involved are being systematically eliminated by mysterious assassins with a strikingly similar modus operandi to the one that claimed Nijjar's life.
The series of murders began in 2018 with the killing of Mohammad Ismael, an operative for LeT, in the Pakistani side of Kashmir. This assassination set the tone for what appears to be a targeted campaign against those connected with the IC814 hijack.
Five years later, the thread continued. On February 20 of this year, Bashir Ahmed of Hizb-ul Mujahideen met the same fate in Rawalpindi, quickly followed by Khalid Raza of Al Badar in Karachi days later.
Most recently, on September 8, Mohammed Riyaz of Lashkar-e-Taiba was killed in Pakistan-controlled Kashmir. Each killing bore the hallmarks of a clinical execution that left few, if any, traces behind.
From this list of kills, Zahoor Mistry's assassination stands out as one that most closely follows the Nijjar pattern. Mistry had been living under a new identity, Zahid Akhund, as a furniture store owner. But this did not prevent his assassination. On March 1, 2022, he was killed in Karachi by two bike-borne assailants.
Within weeks of Mistry's death, Zafarullah Jamali, Zahoor's comrade from the IC-814 hijack, was killed in another part of Karachi. Jamail had been preparing to flee to safety but wasn't quick enough.
Denials and diplomacy notwithstanding, the emergence of such a pattern across borders raises the specter of a shadowy assassination program, possibly state-backed, targeting those deemed long-standing threats or loose ends from past conflicts.
The silence of the global press on these killings, in stark contrast to the outcry following Nijjar's assassination in Canada, could be the result of the standard geopolitical bias in international English-language media. But Masood had a different take, pointing to the difference between the Canadian and Pakistani relationships with India. 
"When the relationship is hostile, to the point of going to war or, you know, in those circumstances, then of course, countries do whatever they think would harm the opponent," Masood said.
"But in this [Canadian] situation, where there is supposed to be a norm, even if the relationship otherwise at the political level is tense, or there are serious differences, but there is no conflict, or there is no war, you're not supposed to do those things… When there is an open conflict, then, of course, there is no holds barred."
Like the Nijjar case, Indian intelligence agents deny their government was involved in these killings.
"This couldn't have been us – at least not directly," said Col. MB when asked about the Panjwar and the IC814 hijacker killings.
Col. MB was part of a covert group called the Technical Support Division (TSD) formed under former Indian army chief turned minister of state for external affairs, Gen. V K Singh. The TSD came under intense scrutiny from the government led by Manmohan Singh for having violated protocols of jurisdiction and mishandling classified information and was later disbanded.
"Do you know how the [Pakistani] Punjab police work?" Col. MB asked. "That whole region, especially urban areas, is full of CCTVs. How come, barring one case, there is absolutely no footage of any of the murders or the murderers' faces and vehicles? I mean, if I were on a list of people being killed, I'd float around in front of cameras all the time, wouldn't I?"
"Look, there are things we can do and things we can't." Col. MB continued. "And this is one which we can't. To me, it appears Pakistan is bumping these people off. Every once in a while, rogue states like Pakistan do a purge of troublemakers once their usefulness has expired. And this is a purge that's underway. Besides, given Pakistan's economic condition, this is great for cost-cutting!"
Similarly, Aravind Hippargi of RAW has an alternative explanation for the Nijjar case: "Who's to say this Nijjar wasn't killed in a gang war?" Hippargi continued, "It is well documented that the Khalistanis in Canada are divided into several gangs… A rival gang may have well killed Nijjar, and given how low Trudeau's popularity is inside Canada, he is playing politics and trying to keep the Khalistani vote bank and the money from turning against him."
"However, as a man of political science, I'll tell you something else," Hippargi continued. "See, all big nations resort to assassination. With all due respect to the rule of law, the sanctity of human life and all that, targeted killings are at times necessary. Transgressions at a smaller scale are done to prevent things from getting worse at a larger scale. And India is an emerging power that has an independent and powerful national interest shaping up. As powerful as the U.S., Russia, and China. And it is natural that India might – not saying it has – but might do things just as all big nations do."
"Maybe sometimes even the government does not know what the intelligence agencies are doing," Masood ruminated in his closing remarks.
"I think once these things start happening, the image of India goes down. Also, then what happens is that you develop a culture. And not only are you committing such acts externally, but you're also committing similar acts domestically. You might do it at a far greater scale because there is no one to check you. And the whole system of basing a society on the rule of law is completely violated. So I think this practice must stop, especially for a country like India, which is democratic."
Note: Several names of interviewees have been changed in keeping with their request to speak anonymously.