How the 'Fab 4' Can Bring Clarity to Semiconductor Supply Chains
It's time for the alliance to break away from its feeble, ad hoc gatherings and help foster the type of predictability that industry needs.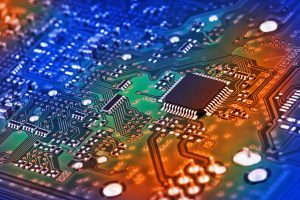 Semiconductors have taken center stage in global economic security debates. Microchips have become an integral part of the China-U.S. confrontation. The fast advent of the digital society and the faster permeation of artificial intelligence have made chips all the more important and crucial for many key areas of national concern. 
No wonder the United States has introduced and experimented with a wide range of novel legal schemes to regulate semiconductors on multiple fronts. Consider, for instance, the CHIPS and Science Act enacted in August 2022 and export control regulations issued by the U.S. Department of Commerce also in August 2022. Add here Washington's diplomatic efforts to motivate chips allies to stay in line, and tough business dialogue to fence key chipmakers in. Some incidents have occurred, such as SK Hynix chips found in Huawei's Mate 60 Pro smartphone, but the U.S. regulatory scheme has largely worked pretty well for the past year or so.
It is time to move forward. Now that the ground has been broken and platform placed, it is time to build a new structure upon it – i.e., a workable and sustainable global supply chain of semiconductors. Patchy, ad hoc stopgap measures should give way to something standing, comprehensive, and predictable. Global chipmakers are not necessarily complaining about regulation in and of itself; they are being agitated by uncertainties arising from the regulation. The continuing innovation and success of the semiconductor industry hinges on how to manage and contain the uncertainties as much as possible. 
Luckily enough, there is already an entity that can help serve this purpose. The United States, Japan, South Korea, and Taiwan formed a consultative entity called "Fab 4 alliance" (also known as "Chip 4") in September 2022. The alliance aims to induce coordination and cooperation among governments and chipmakers from the four participating members in the whole cycle of the semiconductor supply chain. Since its inception, sporadic meetings have been held, but the alliance has yet to evolve into a tangible and visible structure.
Meaningful dialogues and engaging consultations both before and after domestic regulation among the four participants would be useful. They would then ensure much-needed coordination and cooperation among the four in chips policy, which would in turn guarantee predictability for numerous businesses operating in the semiconductor supply chain. 
For this, the Fab 4 alliance had better shed its hibernation mode in favor of more formalized and systematized operations. This is long overdue. Chipmakers and related companies have been paying a hefty price for uncertainty.
The alliance has critical potential. The four members constitute almost the entire universe of the global semiconductor industry: according to the Semiconductor Industry Association data, companies from the four countries accounted for 84 percent of the global semiconductor industry (including design, foundry business, manufacturing, packaging and equipment) in 2021 and 2022. Thus, a tightening of their choreography stands to have significant repercussions for the global semiconductor industry at this crucial juncture. 
And the repercussions do not stop at semiconductors. They will spread rapidly through other industries that run on semiconductors, which means basically almost all key industries these days. Yet another reason for the four to be responsible and work together.
The joint statement after the Japan-South Korea-U.S. trilateral summit at Camp David last August referred to the importance of the three countries' close cooperation in core technologies: namely, AI, quantum computing, and high-end semiconductors. As far as semiconductors are concerned, the three countries should move quickly to come up with a specific and tangible scheme for coordination and cooperation. Unlike the other two (AI and quantum computing), issues relating to semiconductors have already gotten sorted out through trial and error of the past year, and there is a usable platform, the Fab 4 alliance, in place. If it means a more elaborated chips playbook, Taiwan and TSMC would easily get on board. So, building on the Fab 4 alliance is also important to implement the commitment of the trilateral summit at Camp David. 
On August 9, the White House issued a new executive order restricting investment in certain Chinese companies. Although it does not specifically mention semiconductors, the executive order's main target is and will be semiconductors. It is not entirely clear at the moment how wide and how deep the new executive order will reach, because the term "investment" is such a broad and vague one. The uncertainty nightmare will continue to haunt business people in the chips sector. 
The Fab 4 alliance must break away from a feeble, ad hoc gathering mode. It needs details, regularity and clarity. Various tests and experiments so far have taught us how to formulate and operate the new supply chain for chips. The hard-learned lessons should now lead to an upgraded four-way arrangement. More details and guidelines based on consensus among the four participating members and their chipmakers will help reduce, if not eliminate, the uncertainties spreading and multiplying in the chips supply chain.