How Will Southeast Asian Terror Groups Capitalize on the Israel-Hamas War?
From recruitment to possible ideological shifts to opportunistic cyberattacks, a prolonged conflict in the Middle East may have serious consequences for the region.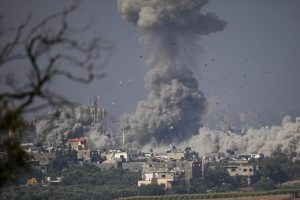 A protracted Israel-Hamas war may have negative consequences in some Southeast Asian nations, in terms of terror recruitment, radicalization, and cyberattacks, according to experts.
The armed conflict in the Middle East has entered its second month after a surprise incursion by Hamas into southern Israel on October 7 resulted in the killing of over 1,200 people, according to estimates by Israeli authorities.
Israel retaliated initially via airstrikes followed by ground offensives that altogether have taken over 11,000 lives in Palestine, according to Gaza's Health Ministry.
International terror groups have since taken advantage of the conflict.
Veryan Khan, president and CEO of the U.S.-based terrorism monitor, Terrorism Research and Analysis Consortium (TRAC), told The Diplomat that every single major jihadist group almost immediately attempted to leverage the Israel-Hamas war, issuing statements and propaganda posters and videos.
"Islamic State was the last to comment," she said. "As you know, the Islamic State does not support Hamas in any way and are completely different ideologically speaking. While the al-Qaida franchises support Hamas, even praise what they considered an honorable event of 7 October 2023, Islamic State only supports the people of Palestine and has asked for lone-wolf supporters to target Western interests.
"Indeed, there has been at least one arrest from an IS supporter planning a vehicle attack at a pro-Israeli rally in Germany since the first IS calls to support Palestinians."
A prolonged Israel-Hamas conflict would be capitalized by terror groups, according to Khan.
"The longer the war rages, the more jihadists will attempt to leverage the carnage," said Khan. "Like in Syria and Iraq, the images of civilian deaths, especially children, outrage jihadist circles. TRAC foresees more propaganda campaigns featuring the carnage of war to anger and call supporters to rise."
An analyst based in the Philippines is similarly concerned.
"Key here is the protracted nature of the crisis," said Georgi Engelbrecht, a senior analyst for the Philippines at the International Crisis Group. 
"The longer the conflict lasts, the deeper the emotions will reach – but also, the more used to the situation the public will become. This is a challenge as young people could always be enticed to feel aggrieved by the situation and discuss options forward."
In Indonesia, the impact of the war on the security situation can be complex and multifaceted, said Indonesian terrorism expert Dr. Noor Huda Ismail.
"Heightened tensions and conflicts can be exploited by extremist groups to radicalize and recruit individuals in Indonesia, potentially leading to domestic security threats," said Noor Huda, a visiting fellow at Singapore's S. Rajaratnam School of International Studies.
"Heightened geopolitical tensions can lead to an increase in cyber threats, including hacking and attacks on critical infrastructure," he added. "The conflict may attract individuals from Indonesia to join the fighting in the affected region, potentially gaining combat experience and radicalization."
Noor Huda said Indonesian authorities should strengthen counter-radicalization efforts, community engagement, and intelligence-sharing in order to identify and address radicalization at an early stage as well as implement strict border controls, enhance intelligence cooperation with international partners, and monitor and address any attempts at recruitment or travel for the purpose of joining conflicts abroad.
In Malaysia, terrorist attack threats brought on by the Middle East conflict are unlikely, Malaysian terrorism expert Munira Mustaffa told The Diplomat. 
"There is no logical reason (for terror elements) to target Malaysia due to this conflict," said Munira, founder and executive director of the Chasseur Group. 
"I would also be cautious of any claims that there are Hamas (cells) or pro-Hamas targeting Western assets or interests in the country. That's not part of their known modus operandi as they have been constraining themselves to local and adjacent arenas, that is Palestine and Israel only. Beyond that, such an approach would be counterintuitive for them," Munira said..
"However, the recent FinTIP assessment have ignited speculations that cybersecurity intrusions are likely to occur, possibly from pro-Israel hacktivists online or any other opportunistic threat actors. Financial institutions are already advised to take precautionary measures to anticipate intrusion attempts," Munira said, using the acronym for "financial sector cyber threat intelligence platforms."
Change of Ideology?
International terror groups that still have some influence on followers in Southeast Asian nations, such as al-Qaida and the Islamic State, have their own ideologies, which differ in significant ways from that of Hamas.
Several terror groups still active in the southern Philippines are aligned with the Islamic State while in Indonesia, there are different groups loyal to either al-Qaida or the Islamic State.
A question that has been discussed by global experts is whether members and supporters of these local terror groups could have a change of ideology that shifts them closer to that of Hamas and therefore reduces support for the original groups.
Noor Huda said it is challenging to predict with certainty how the dynamics among extremist groups will unfold. 
"The relationships between different jihadist movements are complex, and they can be influenced by a range of factors, including ideological differences, regional considerations, and changes in leadership," he said.

"While it's conceivable that individuals or factions may shift their allegiances based on changing circumstances, such transitions are contingent on various unpredictable elements. The ideological differences between [the Islamic State] and Hamas, along with their distinct regional focuses, may present obstacles to a wholesale transition of support from one group to another."
Engelbrecht believes the various supporters of Moro militant groups in the southern Philippines are less focused on the nuances and more on symbols, slogans, and key messages. 
"Most are considering Hamas an ethno-nationalist movement," he said. "There are some who consider the group in a more ambiguous but neutral manner. Most of the information, however, comes from the outside and as such only a few are well versed with detailed politics of the Middle East.
"While sympathies are undoubtedly there, it remains to be seen if there is anything else beyond that. After all, the main issue in Bangsamoro right now – the transition and the peace process – are more relevant and urgent both for the leaders and the people of the region," Engelbrecht said, referring to the Bangsamoro Autonomous Region in Muslim Mindanao (BARMM).
Munira said the change-of-allegiance issue was too speculative for her liking. 
"This is not pre-2017 anymore, which means the conditions are no longer the same," she said. "Many former supporters already expressed their disillusionment with [the Islamic State], and the remnants of IS in Iraq and Syria are primarily motivated by local grievances rather than grand ambitions of rebuilding a caliphate, which is not sustainable to begin with. 
"Another point to consider is that it is improbable for foreign supporters to join Hamas in the same manner they did with IS," she said. "Hamas' ideology is a blend of nationalism and the political Islamism of the Muslim Brotherhood in Egypt. This will have limited appeal and unlikely to resonate with a broader audience. Additionally, there is no concrete evidence of operational connections between Hamas activists and global jihadist groups, as Hamas has been distancing themselves from them."
TRAC's Khan said that "Hamas has been around for decades and never has had any substantial support outside of Palestine or nation state actors funding their efforts. I do not see that anyone will switch their allegiance."
More on 'Foreign Fighters'
Thousands of citizens of Malaysia, Indonesia, the Philippines, and Singapore traveled to the Middle East to fight for the so-called Islamic State caliphate spanning parts of Syria and Iraq during the terror group's height between 2014 and 2017.
On whether such a "foreign fighters" phenomenon would repeat for Hamas, Engelbrecht said that it would be a "tough task" for Filipinos to travel to Palestine to fight Israel.
"Most would try to join humanitarian organizations, I feel," he said. "It is not cheap to fly out and risking one's life is yet another factor to be considered. Overall I'd say they would rather accompany NGO work and medical missions rather than join the resistance fight as such."
Munira said Hamas is not soliciting foreign fighters, let alone military assistance.
"Although Hamas' 1988 charter did imply a welcome for foreign fighters if they put themselves at its service, realistically this is not feasible," she said. "Considering how tightly controlled the Rafah border crossing is, where everyone is thoroughly vetted, foreign fighters are an unlikely scenario. 
"Whatever other routes there are, they are impregnable, and this is certainly the case with the borders of Israel. Even if there are Malaysians who thought about trying to insert themselves in the fight as a foreign combatant, they should consider the obvious ramifications, which would include risking us a blanket ban on Malaysian access that would impair our humanitarian assistance. 
"Moreover, the general consensus from online Malaysian supporters that I have seen is that Palestinians must fight their own fight for their own homeland."
Other Potential Impacts
Hundreds of thousands of Palestinians have been displaced by Israeli airstrikes and fighting between Hamas and the Israeli Defense Forces in Gaza to the southern part of the enclave, prompting calls for nations to take in Palestinian refugees.
Noor Huda said instability in the region could lead to spillover effects, including the movement of refugees, in Indonesia, if it comes to that.
"[This] may have social, economic, and security implications. [Indonesia] has to work with international partners to address the root causes of conflicts, support humanitarian efforts and implement measures to manage the potential spillover effects," said Noor Huda.
Engelbrecht said given that the IS-inspired groups in Mindanao are parochial, localized, and in survival mode, he does not expect much of an organized response to the Middle East conflict.
For one, the faction leaders of the Bangsamoro Islamic Freedom Fighters terror group in the region are ill or have been largely silent. 
"The security sector did consider potential lone-wolf attacks but it would appear even they are skeptical of this possibility," said Engelbrecht. "That being said, we should never discount any possibility of a dynamic of its own triggering an individual or a group to commit violence in the name of jihad.
"As for the MILF, many leaders are upset and concerned with the situation but abide by the peace process and contribute moderately to debates," Engelbrehct said, referring to the Moro Islamic Liberation Front, a former rebel group now administering the BARMM. "I do not see a clear reason why members themselves might get agitated and therefore commit violence."

"So far we have seen protests outside the Israeli embassies organized by the political left," he added. "During these demonstrations there were records of alleged police violence and of course exacerbated emotions from the protestors. In Bangsamoro, these protests did not lead to violence as it would appear. These are the only indirect connections between the Philippines and Gaza/Hamas.
"The biggest question is whether some Moro militants would seek to actively draw on sentiments of dissatisfaction and frustration with the Gaza situation for operations or recruitment."
In Malaysia, the government has expressed strong support for the Palestinian cause and refused to condemn Hamas, designated as a terror group by the U.S. and other nations, for the October 7 attacks.
Malaysia also said it does not recognize unilateral sanctions or actions taken by any countries, including the United States Congress' passing of a bill to sanction foreign entities who support Hamas.
"It is difficult to say for sure, but if sanctions are imposed, the question is what form these sanctions will take?" asked Munira. 
"Malaysia has been providing aid to Palestine for decades. So, the sanctions would have to be very specific and targeted. I'm not sure if the U.S. and Malaysia will break off diplomatic relations and stop trading with each other either. A diplomatic fiasco is likely, but that is the one path that everyone would like to avoid, given Malaysia's value as a U.S. strategic partner, both economic and security, in the region."
Noor Huda believes the U.S. sanctions could have implications in Indonesia if any charities there are found to be directly or indirectly supporting Hamas. 
"This might lead to legal consequences for those entities and impact the flow of funds to such organizations," he said.
With the war's end still elusive and its political endgame far from certain, only time will tell the actual impact of the Middle East conflict on Southeast Asia's security.