Hun Manet's Cambodia?
Manet's path to security in power will be difficult, as he is forced to carefully navigate the system his father built and, to a large degree, still controls.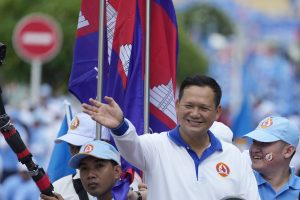 For the first time in nearly four decades, Cambodia has a new prime minister. In August, Hun Sen, Cambodia's leader since late 1984, stepped aside to make way for his eldest son, Hun Manet. The succession represents a new era for the country in terms of symbolic change at the top, but in the medium term at least it appears to offer mostly continuity in change, as Manet inherits – and will be forced to navigate – the system that Hun Sen and his generation created and are attempting to pass to their children. 
This is not without perils for the new leader. Manet must attempt to build his own support among the country's elite and ensure that he keeps a lid on discontent from below at a time of growing economic uncertainty, all while trying to assert his authority and emerge from his father's shadow.
Hun Manet and Cambodia's Elite Politics
Hun Manet's ascension to the top job marks the realization of a process of hereditary succession that has been underway for several years. Power transitions in authoritarian regimes are potentially destabilizing, absent competitive elections and a democratic process through which power passes to a new generation of leaders. In systems like Cambodia's, where power has been personalized to a significant degree under Hun Sen, the threat of instability is enhanced. As personalist leaders consolidate their positions, they necessarily sideline competitors and seek to undermine institutions that could provide a counterbalance to their rule. As a corollary, this can leave a vacuum in power and potential for a chaotic grab for control among rival elites as the preeminent leader's time in power comes to an end Hereditary succession, which promises continuity amid change, can provide the opportunity to ensure elite buy-in and smooth over the cracks in such a system, but it nevertheless must be carefully managed.
For a long time, it had been clear that Hun Sen was preparing the ground for Manet to take power. His approach balanced the interests of potential powerbrokers within the Cambodian People's Party (CPP) and forestalled threats to Manet by also promoting the children of the elite into positions of power. The goal has been to ensure that all are invested in the system's survival, while maintaining the preeminence of the Hun family. 
Thus, hereditary succession is being repeated broadly across government, with a dizzying number of new cabinet members having familial links to their predecessors. These appointments serve to institutionalize the political family as a factor in Cambodia's governance structure, which has been further embedded through the intermarriage of the elite. Important military figures who are still young have been further ensconced in their positions of power, and their relatives have been granted a route to political prominence.