Hundreds of Rohingya Refugees Disembark in Indonesia's Aceh Region
Five boats carrying nearly 900 people have reached western Indonesia over the past week, UNHCR officials say.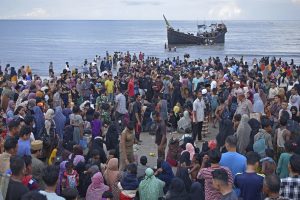 More than 500 Rohingya civilians came ashore in Aceh province in western Indonesia yesterday after weeks at sea, the latest in a wave of new Rohingya arrivals from southeastern Bangladesh.
According to reports by Reuters and BenarNews, which cited local officials and the United Nations High Commissioner for Refugees (UNHCR), three vessels containing up to 525 Rohingya were allowed to disembark yesterday in Bireuen, Pidie, and East Aceh.
"Since their arrival early this morning, we have coordinated with local officials in Pidie region to ensure the refugees are getting their basic needs, since they have been floating for many days on the sea," a UNHCR official told Reuters.
Yesterday's landings included the 200-odd passengers of one boat that had reached Aceh on November 16 but were reportedly pushed back out to sea by local villagers. The vessel was eventually allowed to come ashore after an urgent appeal by UNHCR.
The arrivals bring the number of Muslim Rohingya to have arrived in Aceh province in recent days to 866 on five separate vessels, according to BenarNews. On November 14, a wooden boat carrying 196 people came ashore Aceh's Pidie region, followed by another carrying 200 people on November 15.
The three boats that landed yesterday, and presumably these two earlier boats as well, are believed to have spent up to two months on the open water after setting sail from Cox's Bazar, in southeastern Bangladesh.
Boats have been issuing forth from Bangladesh and Rakhine State in Myanmar for more than a decade. These have increased since 2017, when the Myanmar military drove more than 700,000 Rohingya civilians from Rakhine State into Bangladesh. Since then, around a million mostly Rohingya men, women, and children have languished in the huge refugee camps dotted around Cox's Bazar.
The fact that people are willing to risk such long and dangerous journeys, in overladen boats that are perilously ill-equipped for the turbulent ocean journeys to Indonesia and Malaysia, speaks to their lack of prospects in the refugee camps of Cox's Bazar and the vanishingly small chance of returning to their former homes in Rakhine State. Moreover, the statistics show that the number attempting such crossings is only increasing.
According to UNHCR, an estimated 3,545 people undertook perilous sea voyages in 2022, up from around 700 people in 2021. Of these, at least 348 people failed to complete their journeys, making it one of the deadliest years for Rohingya boat voyages since 2014. The full statistics for 2023 are not yet available, but now that we are entering the "boat season," when conditions at sea are relatively propitious for the long journeys, it would not be surprising to see a wave of further arrivals between now and the end of the year.
A UNHCR spokesperson told Reuters that with the arrival of Rohingya yesterday morning, "we have coordinated with local officials in Pidie region to ensure the refugees are getting their basic needs." The official added that UNHCR was waiting for the government to provide bigger temporary shelters to house them.
While locals in Aceh, one of Indonesia's most devoutly Muslim regions, have generally been accommodating of Rohingya arrivals, there are signs that this might be coming under strain. It is also no foregone conclusion that the Indonesian government will continue to provide sanctuary for new arrivals from Bangladesh and Myanmar.
Indonesia "has no obligation nor capacity to accommodate refugees, let alone to provide permanent solution," a ministry spokesperson said, adding that the country's "kindness in providing temporary shelter has been misused by people smugglers."