Is VinFast Destined To Be the Next Proton?
The Vietnamese EV maker is hoping to establish itself as a leading regional player, but so far its decision-making has been questionable.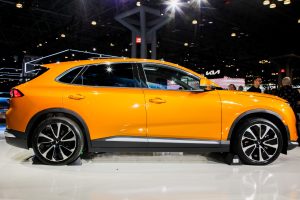 Vietnamese electric vehicle maker VinFast has been making waves with its aggressive plan to enter the highly competitive global EV market. Its listing on the Nasdaq earlier this year took the stock on a wild ride, and VinFast is currently building a $4 billion factory in North Carolina which will give it a production base in North America. What VinFast is not doing–at least not yet–is selling a lot of cars or making a profit. The company reported a $623 million net loss in the third quarter of 2023.
There is a reason few home-grown car companies, and even fewer from emerging markets like Vietnam, attempt what VinFast is attempting. The reason is that it is hard. The global auto industry is competitive. It is dominated by a couple of big brands from Japan, America, South Korea, Europe and, increasingly, China. It involves large upfront capital costs, extensive supply chains and long-term investment in R&D.
In Southeast Asia, the two major auto-producing countries are Thailand and Indonesia. Neither country has its own home-grown car brand that competes with the major global automakers. Instead, Indonesia and Thailand have integrated themselves into the value chains of the big brands. Toyota, which has long held dominant market share in Indonesia, provides a good example of how this works.
Instead of building vehicles in Japan and exporting them to Indonesia, Toyota has set up manufacturing facilities in Indonesia and the cars are assembled there and some components are manufactured there. These cars are then marketed and sold to domestic consumers and the surplus is exported. Increasingly, Indonesia has been producing large surpluses off the strength of domestic demand and exports are rising. Thailand has adopted a similar strategy, but with a heavier focus on exports rather than the domestic market.
There are many benefits to this arrangement. Much of the high-level work is done by Toyota, so the cars are adapted to local tastes while still using proven designs and engineering. Factories in Indonesia and Thailand can integrate into existing Toyota supply chains, and benefit from the strength of the Toyota brand. Building a brand from scratch in such a competitive field, where you have to compete against long-established incumbents like Toyota, is very difficult.
VinFast probably feels like it has a window of opportunity here to establish a foothold in the EV industry before big brands like Toyota have a chance to pivot. But so far, the decision-making has been questionable (such as using financial chicanery like a SPAC to list in the US), and many people are skeptical. VinFast is not a proven brand with proven design and engineering. It faces a huge uphill climb.
There is another home-grown car brand in Southeast Asia that might offer some useful lessons. Proton Holdings is a Malaysian national car company that designs, engineers and manufactures its cars domestically. Like VinFast, Proton is part of a larger conglomerate called DRB-Hicom that has interests in banking, real estate, aerospace, defense, and postal service. But the main earner is their automotive holdings.
While they aren't doing Toyota numbers, the automotive division brought in a respectable 8.2 billion ringgit ($1.7 billion) in 2022, equal to 72 percent of DRB-Hicom's total contract revenue. Perhaps VinFast can follow in Proton's footsteps, carving out a foothold for a Made in Vietnam EV that can one day generate billions in revenue.
But there are caveats. Proton has almost no business outside of Malaysia. Of that $1.7 billion in revenue only 1.5 percent or around $26 million was earned in foreign markets. The automotive division doesn't just sell Protons either, they supply parts and assemble vehicles for big foreign brands that operate in Malaysia like Suzuki. In 2017, DRB-Hicom sold 49.9 percent of Proton Holdings to Zhejiang Geely Holding Group, a Chinese auto company.
It has taken decades for Proton to build its brand and establish this level of domestic market share, and it still has limited competitiveness in international markets. And even though it is touted as Malaysia's home-grown car, Proton is still part of the supply chains of other car companies and is partially foreign-owned. Is this what VinFast has to look forward to?
Not necessarily. VinFast's task is doubly hard because they are trying to build the brand and break into international markets before even establishing a significant domestic position in Vietnam first. Vietnam is not, in any case, a major automobile manufacturing and export hub, which makes VinFast's decision to try and start at the finish line even more puzzling. It's a bold plan, to be sure, but also a big and costly gamble, and one that will need to start paying off sooner rather than later.