Japan's 'Balanced' Position on Palestine Fails to Impress 
In Japan, protests calling for a humanitarian ceasefire in Gaza are at odds with the government's stance in the Israeli-Hamas war.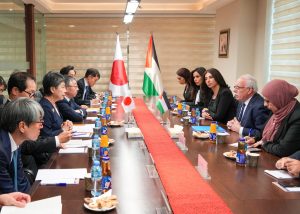 Japan's diplomatic stance in the deteriorating conflict in Gaza is being tested as civilian deaths continue to mount; over 11,000 have been killed thus far. Public opinion in Japan is tilted toward an immediate ceasefire, and there is mounting criticism over the government's cautious balancing act between Israel and Palestine. 
Since heavy fighting erupted, regular weekly protests have taken place in Tokyo, Osaka, and Nagoya calling for a ceasefire and the lifting of Israel's blockade on Gaza. The United Nations Secretary General Antonio Guterres strongly condemned the attacks in Gaza as a violation of international law, which prohibits the targeting of civilians. 
In Japan, the largest demonstration to date was held on November 10 where approximately 4,000 protesters gathered in Tokyo's Shibuya ward. The march was led by local Palestinian residents and was attended by Japanese lawmakers, the Pakistan Association, and the Japan International Volunteer Centre (JVC). The message at the rally was clear: "immediate ceasefire" and "urgent action now."
However, Japan's official position has been anything but clear. For instance, Japan says the humanitarian situation in the Gaza Strip is the highest priority. On October 17 it pledged $10 million in emergency humanitarian aid to civilians in Gaza. 
At the same time, Tokyo has expressed support for Israel's right to self-defense against terrorism. Japan condemned the surprise attack by Hamas and the killing of approximately 1,200 Israeli civilians on October 7. Japan did not criticize the Israeli air strikes in Gaza the following day, which killed approximately 1,300 Palestinian civilians.
Japan has made efforts to stay detached by avoiding outright support for either side. It was the only G-7 member not to participate in a joint statement expressing support for Israel's right to self-defense as well as the protection of civilians. Chief Cabinet Secretary Matsuno Hirokazu explained that "the six member nations were victims of citizen kidnapping and casualties," unlike Japan.  
This was then followed by Japan abstaining from a U.N. General Assembly resolution that called for a humanitarian ceasefire. Japanese Foreign Minister Kamikawa Yoko explained that she was in favor of some of the content in the resolution but overall it lacked balance in terms of a strong condemnation of terrorist attacks. She also criticized the content submitted from Jordan, which she argued was biased and in favor of Palestine.
Japan has since shifted toward a stronger tone amid mounting public criticism of the disproportionate level of deaths caused by Israel. Nevertheless, Japan has stopped short of supporting a ceasefire, echoing the position of its ally, the United States. Instead Kamikawa, alongside her fellow G-7 foreign ministers, urged Israel to adopt a temporary "humanitarian pause" and stressed that all actions must fall within international law. 
As chair of the G-7, Japan is eager to show its diplomatic leadership on the global stage, particularly in the Russian invasion of Ukraine. But in the case of the Israel-Hamas war, Kamikawa has opted for a balanced yet hands-on approach. Kamikawa is the first Japanese Cabinet minister to visit both Israel and Palestine since the armed confrontation began. 
On November 3 Kamikawa met with Israeli Foreign Minister Eli Cohen, where she strongly urged for a temporary pause and said that all action should be taken in accordance with international law. Kamikawa met with the families of Israeli victims killed by Hamas and those held hostage. She pledged solidarity with the Israeli people and said Japan would do "all we can to free the hostages and work toward a world free of terrorism." 
On the same day Kamikawa met with her Palestinian counterpart, where the government pledged an additional $65 million in humanitarian assistance.
Unlike its Western allies, Japan has historically avoided getting involved in conflicts with the Arab states. Japan is deeply dependent on the Middle East for crude oil. The region accounts for more than 90 percent of Japan's oil imports.  
What's more, it's important to remember that Japan has always been in favor of a two-state solution. Traditionally, it has shared closer ties to Palestine than to Israel. It has also had a history of independent diplomacy with the region. But since the 2000s, its foreign policy on the conflict has largely mirrored that of the United States, Japan's security ally.
Kamikawa took up the post of foreign minister in mid-September. The Israel-Hamas war is the first time the Japanese public are seeing her style of diplomacy and skills in action.
While she has repeatedly called for a "calming down of the situation," the ability to promote peace on humanitarian grounds in Gaza is hampered by attempting to appease both sides.