Mongolia Launches a Shakespeare-esque Play in London 
"The Mongol Khan" will be the first Mongolian play performed abroad, furthering emphasizing Mongolia's cultural diplomacy.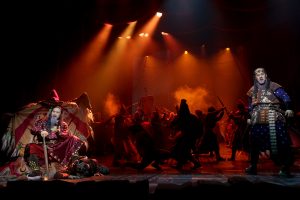 This year marks the 60th anniversary of Mongolia and the United Kingdom's diplomatic ties. In celebration, the two countries have organized a series of cultural activities, but a special emphasis is being given to London's hosting of "The Mongol Khan," an epic theatrical play that marries a Mongolian narratives with Britain's world-famous legacy in literature and theater.
The play is a sign that the two countries' bilateral relations are not just relying on traditional FDI models in established industries, but increasingly leveraging Mongolia's vibrant nomadic culture and rich heritage.
When "The Mongol Khan" opens on November 17, it will be the first time a Mongolian theatrical play is performed abroad. The play was originally written in 1998 by the "People's Writer of Mongolia," Lkhagvasuren Bavuu (1944-2019). 
John Man, who translated Lkhagvasuren's play, is a British author of multiple books on the Mongol Empire. "'The Mongol Khan' play is a powerful example of 'soft power' on behalf of Mongolia," Man told me. "Lkhagvasuren Bavuu's play is a triumph of formal, poetic writing, exploring great themes of ambition, intrigue, revenge and leadership, which will remind English audiences of many plays by William Shakespeare."
"The Mongol Khan" tells a story of greed, deceit, and betrayal – an empire on the brink of collapse. As the Great Khan struggles to maintain his supremacy, a plot hatches that will forever alter the balance of power. Some aspects of the play emulate Elizabethan classics such as Shakespeare's "Hamlet" – a battle for the throne, love, revenge, and deceit. 
The director of the play, Hero Baatar, told TimeOut magazine, "This show is the first attempt to properly visualize the Hun Empire. It creates a new door to history."
He also gave special thanks to London's Coliseum for hosting the "The Mongol Khan." The choice of the U.K. for the play's first overseas run is no coincidence – it reflects the fact that the United Kingdom was the first Western country to recognize Mongolia's independence and sovereignty 60 years ago. 
On November 12, in recognition of the Mongolia-U.K. diplomatic milestone, the Mongolian actors of "The Mongol Khan" participated in the 800-year-old Lord Mayor's Show annual parade in London, wearing their traditional clothes, on horseback. 
Although Mongolia and the U.K. established diplomatic relations in 1963, historical ties date back thousands of years. In fact, British curiosity about the Mongol Empire predates the British Empire itself, as recorded in literature and artworks.  
One such example is the mentioning of Chinggis Khaan (also spelled as Genghis Khan) in the oldest Western literature, the magnum opus of Geoffrey Chaucer, "The Canterbury Tales." 
Chaucer wrote: "Young, fresh, and strong, in arms desirous / As any bachelor of all his house. / A fair person he was and fortunate, / And kept always so well royal estate / That there was nowhere such another man. / This noble king, the Tartar Genghis Khan." 
During the Elizabethan era, an entire play was written about the Mongol Empire. London-based Society for Theatre Research explained the importance of the two-part play, "Tamar Cam," with its "plot focused on… succession between Möngke Khan and Temür Khan." In that sense, "The Mongol Khan" continues a 400-plus year-old tradition in Britain of staging plays about the high drama of Mongolian dynastic politics.
In addition to recognizing the special relationship between Mongolia and the United Kingdom,  bringing "The Mongol Khan" to London is part of Ulaanbaatar's soft power push, which has both cultural and economic objectives.
Mongolia's cultural diplomacy – in London and Paris last month – underscores the need to defend Mongolian history and culture in the face of not only modernization but also increasing historical and cultural narrative manipulation by other states.
For example, China protested against the Chinggis Khaan Exhibit in Nantes, France, trying to insist that references to "Mongol" and "Chinggis Khaan" be stripped out. China has also banned "The Mongol Khan" theatrical play just before its scheduled opening, objecting to references to Mongolian historical figures. 
While China's rigid historical stance poses some challenges, ultimately it does not hinder Ulaanbaatar's cultural ties with other countries. That was evidenced when the exhibit in Nantes eventually went ahead, despite China's objections. As Mongolia continues to strengthen bilateral ties with its global partners, which includes Beijing, cultural elements expressed vis-à-vis artistic performances will play an increasingly important role. 
Ulaanbaatar's push for cultural diplomacy is also directly related to attracting tourism and investment to the country. 
In celebration of the Mongolia-U.K. diplomatic anniversary, Mongolia relaxed visa requirements for British nationals for 30 days, as part of the administration's "Year to Visit Mongolia" tourism campaign. According to the U.K. government, "Around 6,500 British nationals visit Mongolia annually." In August, this summer, the British actor Christian Bale traveled to Mongolia, potentially inspiring others to experience Mongolia's nomadic culture and remote lifestyle first-hand. 
Amid the growth of cultural diplomacy and people-to-people ties, cooperation is also continuing in more traditional fields, such as the mining sector. Rio Tinto, the Anglo-Australian mining giant, has for years worked closely with the Mongolian government on their joint enterprise at the giant Oyu Tolgoi copper mine. 
Earlier this year, the two parties signed a $7 billion agreement on the expansion of the mine which, upon completion in 2030, will make Mongolia one of the world's top four high-tech copper producers. Ulaanbaatar and London are also expanding opportunities and investment in other sectors, such as education, gender equality, fighting climate change, and strengthening civil society.