One Dutchman and 350,000 Cambodian Refugees
A conversation with Hans van Zoggel.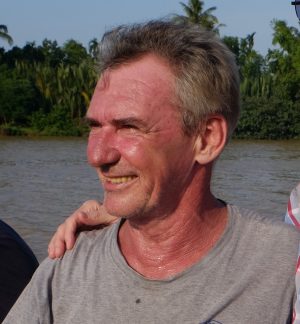 Hans van Zoggel taught English in his early 20s when he first met Cambodian refugees in The Netherlands. He was barely out of college and jobs were hard to come by but he left home for the Thai border camps where he succeeded in putting his students in touch with their relatives.
He was also struck by their plight – refugees and internally displaced people huddling in a mishmash of shabby huts and surrounded by the Khmer Rouge. He stayed and went to work in the camps where he prepped those lucky enough to be accepted as refugees for a life in the United States.
The early 1980s were a difficult time. The Vietnamese had only just ousted Pol Pot from power and his Khmer Rouge had settled in for a civil war that would last nearly two decades. The poverty was intense and van Zoggel built a life around helping the victims of war.
Eventually, the camps would merge and mushroom and become home to 350,000 Cambodians with little more than the shirts on their backs, and van Zoggel would work with the Red Cross, the United Nations Development Programme, and the World Food Programme, among others.
In this podcast, van Zoggel canters through more than four decades of constant change that began with the ousting of the Khmer Rouge from power in late 1978 and the pivotal moments that guided Cambodia from a failed, unrecognizable state to international acceptance.
From his home on the Kampot River, he spoke with The Diplomat's Luke Hunt, about the great events that Cambodia has witnessed since then, including demobilization and what it was like to prepare 350,000 refugees for a return trip to their home villages once the war was over.