The Transition to Sustainable Heating in Central Asia Is Critical and Achievable
A transition to sustainable heating would mean fuel and cost savings, lower emissions, and greater energy independence.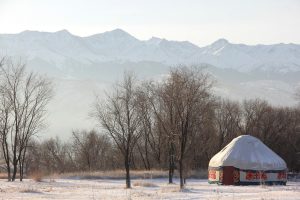 Winter focuses the mind on staying warm, particularly in Central Asia where temperatures can drop to minus 40 degrees Celsius for weeks at a time. As the region prepares for winter, people know that their heating supply could be disrupted by unexpected power outages and interruptions in district heating, or by the unavailability of fuel. Some power outages are broad but brief, like the one in January 2022 that hit Kazakhstan, Kyrgyzstan, and Uzbekistan; others are narrower but prolonged, like one in November 2022 that left the city of Ekibastuz in Kazakhstan without electricity and heating for more than a week in subzero temperatures. Even when heating is available, inefficient supply and homes often mean higher costs and lower levels of comfort.
A transition to sustainable heating can address the region's systemic heating challenges. If done right, its benefits would include more affordable and efficient heating, better performing utilities, lower greenhouse gas (GHG) emissions, better air quality, and ultimately more comfort for citizens. 
The Promise of Efficient, Affordable, Clean Heating
Shifting to sustainable heating starts with reducing demand by improving energy efficiency. About one-quarter of Central Asia's total energy is used for space heating, so there is enormous potential for improvements in the region, where buildings often consume two to three times more energy than those in Western Europe. Many buildings were constructed in the 1960s and 1970s when efficient designs and insulation were rarely considered. As a result, much heat is lost through leaky windows and uninsulated walls and roofs. These inefficiencies mean drafty homes and high heating costs for citizens, especially the poor. Thermal renovation of buildings and new building codes are essential.
The transition will make energy for heating more affordable. In Kazakhstan and Kyrgyzstan, about 20 percent of the population spends more than 10 percent of their income on energy, and Tajikistan and Turkmenistan are not far behind. Families living in homes without insulation that rely on coal for heating can pay significantly more than those living in a thermally renovated home with a cleaner heating system such as a heat pump and a rooftop solar panel. When heating prices increase, as they did after Russia's invasion of Ukraine in 2022, one in three households faces the stark choice of reducing heating levels in the home or reverting to cheaper, often dirtier fuels.
Another important aspect is reducing the region's dependency on fossil fuels such as natural gas and coal, which are prime sources of GHG emissions and pollution. In urban areas, most homes rely on district heating networks, which are almost completely dependent on fossil fuels, individual gas boilers, or conventional electric heating. Outside cities, households have to rely more on coal and firewood burned in inefficient, polluting boilers or stoves. As a result, air pollution is significantly worse during winter, particularly in urban areas. 
Tajikistan has the highest level of air pollution in the region at about 40 micrograms per cubic meter of fine particulate matter, followed by Uzbekistan at 36 — both far higher than the World Health Organization guideline of 5. Poor air quality causes 302,000 deaths and incurs a welfare cost of 7 percent of GDP each year in Europe and Central Asia. The region's governments that prioritize shifting to cleaner fuels can look to developed European countries where many cleaner technologies and fuels are in use.
Investing in Transformative Change
A shift to cleaner heating will make economic sense over the longer term while providing a clear path to reducing emissions by 2050, according to a new World Bank report, "Toward a Framework for the Sustainable Heating Transition." Financing the transition will require massive investments supported by government subsidies, the report finds. For Central Asia, the overall transition cost is estimated at $265–316 billion. Country estimates range from $147 and $104 billion for Uzbekistan and Kazakhstan (7.8 percent and 1.9 percent of GDP, respectively) to $20 billion and $18 billion for Kyrgyzstan and Tajikistan (8.7 percent and 7.6 percent of GDP, respectively). 
These costs are steep, but they are half of what governments are projected to spend on fossil fuel subsidies through 2050. And the economic benefits are even higher, in terms of savings, lower emissions, and improved health. In terms of carbon dioxide emissions alone, it is estimated that the transition would avoid the emission of about 8.9 billion tons of GHG.
To implement the transition effectively, governments need to reduce demand by investing in energy efficiency, upgrade their district heating networks and adopt cleaner fuels, and support clean, efficient heating systems for individual homes. To achieve this, each country needs to develop its own strategy that includes pricing and policy reforms to incentivize businesses and households to adopt cleaner heating options, financing support in the form of loans, grants, and tax incentives, and information and outreach including technical training. 
Investing in this transition would be transformative for Central Asian countries. It would mean fuel and cost savings, lower emissions, and greater energy independence. It would raise property prices, create green jobs, and improve regional energy security. While protecting people during harsh winters is critical, this is an opportunity to invest in considerably more than keeping people warm.