Unlocking the Minilateral Paradigm for ASEAN Maritime Security Cooperation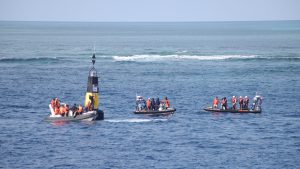 The Association of Southeast Asian Nations (ASEAN) currently faces many formidable challenges, necessitating the organization to exhibit determination, unity, and more effective responsive measures. Amongst these issues, "maritime security" stands out as particularly vital. Although the definition of the term is contested, maritime security can be understood as "the absence of various threats to actors that operate on the sea, to activities that take place on and across the sea, to the well-being of the sea itself." The contemporary Southeast Asian maritime security landscape is characterized by a diverse range of threats, including China's increasing assertiveness in disputed waters. All of these pose a threat to the stability, peace, and prosperity of the region and beyond.
ASEAN member states have recognized the imperative of cooperation in responding to traditional and non-traditional maritime security threats. This was reflected in the release of the ASEAN Outlook on the Indo-Pacific in 2019 and the ASEAN Maritime Outlook in 2023. However, the divergence of national interests and strategic calculations among ASEAN member states have become barriers to such cooperation in practice. Additionally, ASEAN's consensus-based decision-making approach, which requires the support of all 10 member states, has created a deadlock and has cast doubts both on the notion of "ASEAN centrality" and the bloc's ability to address pressing regional issues.
In terms of cooperation and decision-making, the minilateral mechanism – ad hoc groupings that consist of a small, exclusive number of countries collaborating to solve a particular problem – has been proposed as a viable alternative that could help ASEAN overcome these limitations. The notion is that minilateralism would bring together like-minded nations and help them "adopt more expedient and robust responses to shared threats." However, it seems that so far, minilateral engagements have not met the expectations of stakeholders.
The ASEAN country that has most proactively embraced minilateralism is perhaps the Philippines, and there are expectations that it will collaborate with key regional actors to push a decisive response to the deteriorating situation in the South China Sea. Malaysia is also seeking minilateral coordination with ASEAN claimant states amidst China's militarization of disputed waters.
Likewise, Indonesia is also engaging in minilateral cooperation with these countries to foster unity and cooperation in response to China's escalating actions in the South China Sea. For instance, following the Joint Commander Coast Guard's virtual meeting with Vietnam, Brunei, Malaysia, the Philippines, and Singapore in October 2021, Indonesia further extended invitations to high-ranking officials from these five nations for another meeting held in February 2022 to discuss a joint response to China's enduring assertiveness in the South China Sea.
Furthermore, during its tenure as the ASEAN Chair, Indonesia has emphasized the importance of steering ASEAN away from great-power competition and maintaining the bloc's centrality. However, ASEAN has remained silent and has not issued any statements regarding the recent collision between the Philippine and Chinese vessels at the Second Thomas Shoal. It is evident that despite the existence of long-standing minilateral maritime collaboration among ASEAN member states, there has yet to be a truly effective mechanism capable of uniting countries for collective responses in countering China's assertive actions at sea.
To enhance the efficacy of minilateral maritime cooperation mechanisms among ASEAN nations, I would like to make the following proposals.
Firstly, ASEAN must adjust its decision-making processes in order to more effectively deal with maritime security threats, particularly those concerning the South China Sea. Undoubtedly, not all 10 ASEAN member states care about the South China Sea disputes to the same degree, which has made it difficult to achieve a regional consensus on the issue. Meanwhile, claimant states may encounter difficulties when attempting to issue "minilateral" statements expressing their dissatisfaction with Chinese behavior in contested waters.
Several factors can account for these challenges. China's lack of support for minilateral mechanisms could put claimant states at risk of heightened pressure, coercing them into bilateral negotiations with China. Additionally, due to the non-binding nature of minilateralism, countries may find it difficult to compromise their national interests in order to engage in an asymmetric battle of interests and power with major powers.
Notwithstanding, there exists a potential path forward if ASEAN member states place their trust in minilateralism. This would involve the establishment of a fresh minilateral grouping comprising countries that share common perspectives on the adjustment of ASEAN's consensus-based decision-making. Alternatively, the idea of modifying these decision-making processes can be integrated into existing minilateral frameworks. Subsequently, the like-minded nations within these groups would raise this issue during high-level ASEAN meetings, persisting until a feasible and satisfactory outcome is attained.
More particularly, the "ASEAN minus X" formula under the ASEAN Charter, which is only employed for implementing economic commitments, could be extended to address more complex security issues. This approach would entail smaller groups of member states reaching a consensus on critical matters. The attainment of consensus is of the utmost importance as it enables ASEAN to serve as a common platform for members to articulate their stance, and claimant countries could reduce the vulnerability to reprisals and offensive actions from major powers.
Through ASEAN, these countries can collectively present multilateral statements of opposition to Chinese maritime behavior. With an adjusted decision-making process, ASEAN would be empowered to assert its position and amplify its collective voice, presenting itself as a united front rather than individual states speaking out independently. As long as these expressions align with ASEAN's shared values, particularly the adherence to international law and peaceful dispute resolution, they would not only strengthen ASEAN's centrality but also preserve its core values and principles.
If the first approach fails, minilateral mechanisms could play a crucial role for ASEAN countries in facilitating cooperation in dealing with non-traditional maritime threats and fostering their development in specific sectors. The current minilateral mechanisms within Southeast Asia, which primarily concentrate on non-traditional aspects such as joint maritime patrols, counter-piracy, or real-time information sharing, have proven to be highly beneficial for regional maritime security. Minilateral cooperation could be expanded following the formula [(ASEAN – X) + Y], in which Y represents the involvement of external major powers. (A minilateral grouping could also involve just one ASEAN country alongside two or three external major powers).
Crucially, ASEAN member states need to have a clear understanding that minilateral maritime cooperation should primarily focus on non-traditional security aspects. Neglecting this focus could result in ASEAN countries being lured into the "trap" of being swayed by the interests of major powers, which would further undermine ASEAN's centrality.
Nations should use minilateral frameworks to bolster collaboration in naval capacity building, maritime domain awareness, maritime scientific research, transfer of maritime-related technology, and coordinated efforts to maintain maritime stability. This strategic approach will contribute to the comprehensive capabilities and capacities of the participating ASEAN countries. Only when nations become more robust will they possess a more influential voice in multilateral forums, enabling them to address their own challenges.
As an example, Japan has recently revealed its plan to offer a new security assistance package to the Philippines, including a coastal radar surveillance system and to provide multi-role vessels for the Philippine Coast Guard. However, Japan's call for U.S.-Japan-Philippines trilateral cooperation, with a specific focus on countering China's growing military presence in the South China Sea, presents a strategic decision for the Philippines. The Philippines needs to carefully consider and calculate its next steps to formulate an appropriate response.
Additionally, nations such as the Philippines can utilize minilateral cooperation networks as platforms to share their narratives and garner support from other countries. Building upon such a foundation, countries with similar interests to the Philippines can cultivate trust and converge in providing increased support for collective actions aimed at opposing aggressive behaviors in the maritime domain. This may even involve enhancing cooperation in areas such as military, navy, and other related fields in the long term.
Given the heterogeneity among ASEAN states, achieving consensus within the bloc is a challenging task, and the proposed measures will inevitably entail both advantages and disadvantages. It is crucial for each country to self-perceive its position and thoroughly evaluate the "costs" associated with their respective next steps.