What Does Nepal Want From China?
Pushpa Kamal Dahal's September visit to China demonstrated a clear balancing of aspirations and pragmatic realities, both on the domestic and international fronts.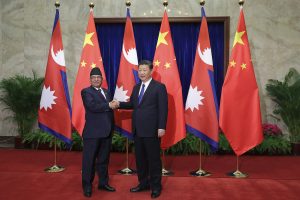 Leading only the third largest political party in the federal parliament of Nepal, Pushpa Kamal Dahal, also known as Prachanda, is prime minister of the rather ideologically and statistically unconventional coalition between his party – the Communist Party of Nepal (Maoist Center) – the Nepali Congress, and other smaller political parties. The fact that the Maoist Center is only a fraction in the crucible of the coalition means the survival and the longevity of his government is the top priority for Dahal. In light of this pragmatic calculation, the prime minister has limited space to work on his visions of both domestic and foreign affairs.
This encumbrance is strongly visible in the making and the implementation of the government's foreign policy. Any effort by Dahal toward a drastic foreign policy revision or any long-term bilateral agreement with China, for example, could potentially endanger his position at home and his party's position in the government. 
This pragmatic conditionality places Dahal in a contradictory position as he seeks to balance his party's interests and his government's position regarding China. While his party's ideological affinity with the Chinese Communist Party (CCP) and frequent interactions with China's second-tier leadership stimulates the Maoist Center to shape policies that resonate with communist principles, the weak position of Dahal's party within the ruling coalition prevents the same. 
Given these dynamics, the prime minister's week-long China visit, which began on September 23, was watched closely in Nepal and by the international community. 
Dahal made a public announcement about his interest in visiting China over the summer, immediately after returning from Delhi. The timing was interpreted by some as an expression of frustration with his failure in India to accomplish any concrete and substantial agreement on specific issues about which Nepal is concerned. After failing to gain much of a boost from his India trip, Dahal's visit to China aimed to restore his image as a communist leader and statesman focused on the national interest amid criticism and dwindling domestic support.
However, Dahal's China visit transcended his domestic political motivations of balancing coalition interests and raised broader questions about what Nepal wants from its relationship with China and the extent of its commitment to securing these goals. These objectives encompass the broad kaleidoscope of interests and aspirations, ranging from getting benefits from Chinese economic growth and seeking help to diversify Nepal's economy to attracting Chinese investment and developing closer people-to-people relations. 
Despite its aspirations with regard to relations with China, Nepal possesses very minimal strategic and economic leverage. This lack of leverage makes it largely a recipient, not only of Chinese economic assistance but also its political influence, and Nepal equally faces the brunt of China's geopolitical assertiveness. This fundamental structural asymmetry is the background one has to keep in mind when it comes to assessing China-Nepal relations.