What's Behind the Increased Diplomatic Push in Kazakhstan?
Putin undoubtedly seeks to preserve the status quo in Russia's relations with Kazakhstan. And Tokayev continues implementing Astana's decades-old multi-vector foreign policy.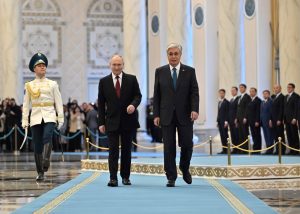 Bogged down in Ukraine, isolated from the West, and abandoned by some of its nominal allies, Russia seems to desperately seek to keep energy-rich Kazakhstan in its geopolitical orbit. Although the Central Asian nation at times appears to be attempting to distance itself from the Kremlin, Astana might soon be under pressure to show more loyalty to Moscow.
Since independence and following the collapse of the Soviet Union in 1991, Kazakhstan has pursued what it terms a "multi-vector foreign policy." To this day, Astana attempts to balance its alliance with Russia, its economic ties with China, and its ambition to establish closer ties with the West. Moreover, Kazakhstan seeks to deepen integration with the wider Turkic world through the Organization of Turkic States (OTS).
Indeed, on November 3 Kazakhstan hosted leaders of OTS members Turkey, Uzbekistan, Kyrgyzstan, and Azerbaijan, as well as Hungary and Turkmenistan as observers. The summit in Astana was an ideal opportunity for the Kazakh leadership to strengthen bilateral ties not only with neighboring former Soviet OTS members, but also with Turkey – the group's de facto leader.
Quite aware that Ankara seeks to increase its presence in Central Asia – a region that has traditionally been in Moscow's geopolitical orbit – Russia aims to preserve its influence in countries such as Kyrgyzstan and Kazakhstan. It is, therefore, not surprising that Russian President Vladimir Putin's first trip abroad since the International Criminal Court (ICC) issued an arrest warrant for him on March 17 over alleged crimes amid the invasion of Ukraine, was to Bishkek where he attended the Commonwealth of Independent States (CIS) summit on October 13.
Four weeks later, the Russian leader flew to Kazakhstan, where he met with President Kassym-Jomart Tokayev. Prior to the meeting in Astana on November 9, Tokayev stressed the importance of the Russian language as a "unifying factor in the CIS space." He also emphasized that negotiations are underway on the creation of joint Kazakh-Russian educational organizations in the southern regions of Kazakhstan. It was a symbolic message that the authorities in Astana do not plan to implement a Ukraine-style derussification of the country, since such a move could have severe consequences for Kazakhstan's relations with Moscow.
Russia is Kazakhstan's largest trading partner, with bilateral trade reaching a record $27 billion last year. More importantly, Kazakhstan's energy export routes remain heavily dependent on its northern neighbor. Indeed, from the energy perspective, Russia is Kazakhstan's major gateway to Europe, since 80 percent of its oil exports to the European Union are transported through Russian territory.
That, however, does not prevent Astana from seeking to establish closer political and economic ties with the West. Tokayev's meeting with Putin came less than 10 days after French President Emmanuel Macron visited Kazakhstan. Russia, for its part, accused the West of "trying to pull Russia's neighbors, friends and allies away from it."
At the same time, Russia reached a deal with Kyrgyzstan and Uzbekistan to build out the Southern Transport Corridor, which would in effect bypass Kazakhstan by routing goods from Kyrgyzstan and Uzbekistan via Turkmenistan and the Caspian Sea on to Russia and beyond. Could that be Moscow's reaction to Astana's "flirting" with the West, as well as to its participation in the Trans-Caspian International Transport Route, the Middle Corridor, which bypasses Russia?
On October 19, Kazakh Deputy Trade and Integration Minister Kairat Torebayev said that his country has "stopped exporting 106 different products to Russia due to Western sanctions," including military goods like drones, specialized electronics, chips, and similar items. Previously, in July, Kazakhstan reportedly prevented the illegal shipment of drones from Kyrgyzstan to Russia, which indicates that Astana is trying to make good on its assurances to the United States and the European Union it that does not allow Russia to circumvent Western sanctions. But in spite of that, Putin sees Kazakhstan as Moscow's "closest ally." Tokayev described his meeting with the Russian leader as "historic," which is exactly the same rhetoric he used following Macron's visit to Astana. 
Putin undoubtedly seeks to preserve the status quo in Russia's relations with Kazakhstan – and in the mid-term possibly even increase Russian presence in the Central Asian state. Tokayev continues implementing Astana's decades-old multi-vector foreign policy, trying not to jeopardize the current balance of Kazakh-Russian relations.
Following series of debacles in Ukraine, as well as Armenia's ambitions to establish close ties with the West and leave the Russian zone of influence, Moscow cannot afford to lose Kazakhstan – the largest country in Central Asia – as an ally. That is why, in the coming months, Putin and Tokayev will continue holding meetings. The two leaders are expected soon meet again in Minsk at the Collective Security Treaty Organization (CSTO) summit, then at the Eurasian Economic Union (EAEU) summit, as well as at the informal pre-New Year meeting of the leaders of the CIS countries in St. Petersburg.
Finally, given that energy is one of the major drivers of Russia's foreign policy, it is entirely possible that the Kremlin will pressure Astana to allow Russian energy giant Rosatom to build a nuclear power plant in the Central Asian nation – if voters there give the green light in a referendum for Kazakhstan to go nuclear. In September 2022, Kazakh officials said that companies from China, United States, and South Korea might participate in the construction of nuclear powers plants in the country, while on November 9, during the Tokayev-Putin summit, Kazakh Minister of Energy Almasadam Satkaliyev pointed out that "Russian nuclear technologies are the safest, the most efficient, and the cheapest in terms of construction." Could such rhetoric be interpreted as a signal that Astana is willing to allow Rosatom to play a crucial role in Kazakhstan's nuclear future?
One thing is for sure – Russia will not give up what it sees as its backyard without a fight. But neither will Astana, despite potential pressure from Moscow, stop developing close economic, political, and even military ties with the West.
In the coming months and years, the battle for influence in Kazakhstan may intensify. Astana will have plenty of partners to chose from.