Where Does Ganjar Pranowo Stand on Indonesia's Foreign Policy?
The PDI-P candidate has laid out a platform that suggests a good deal of continuity with the approach of President Joko Widodo.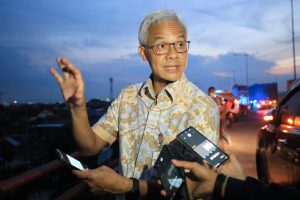 In Indonesia, the upcoming general election in February 2024 is now well and truly dominating the news.
Three pairs of presidential and vice-presidential candidates have now registered to run in the election, and are busy announcing their competing visions regarding the economy, human capital development, legal reform, and technological advancement.
Undoubtedly, one of the least discussed topics is foreign policy. This issue is rarely in the spotlight due to a significant priority for domestic-based topics. Foreign policy issues in Indonesia remain something of an elite concern, despite the best efforts of the Ministry of Foreign Affairs.
Given the increasingly strategic role that Indonesia plays at the regional and global level, particularly after two years in which it has chaired the G-20 and the Association of Southeast Asian Nations (ASEAN), this article will review what one of the leading candidates, former Central Java Governor Ganjar Pranowo, has brought to the table when it comes to foreign policy. A future article will examine the foreign policy stance of his main rival, Defense Minister Prabowo Subianto.
Ganjar and Mahfud laid out their foreign policy vision in their recently released campaign manifesto, "Towards an Excellent Indonesia," which claims as its goal the achievement of "an advanced, just, and sustainable maritime nation."
In the preamble to the manifesto, Ganjar and Mahfud acknowledge the growing number of global challenges, including tense geopolitical dynamics, global population increases, technological disruption, climate change, economic disparities between the developed and developing worlds, injustices in the international system, and the global economic rivalries that are taking an increasing international toll.
To address these challenges, this PDI-P-backed candidate has promised to maintain the "free and active" foreign policy principle that the country has pursued since its independence, but advocates a reprioritization of these concepts to fit the changing global landscape.
As Ganjar stated at a recent event at the Center for Strategic and International Studies in Jakarta, "'free' has to be defined as being independent in formulating strategic policies, while "active" means that Indonesia should create its own international initiatives rather than simply responding passively to international events."
Ganjar-Mahfud have also stressed the importance of capitalizing on Indonesia's natural and human resources to strengthen its diplomatic efforts. Thus, domestically, the country has to improve and accelerate its progress in numerous areas, including food security, energy resilience, maritime sovereignty, and economic industrialization. This reflects a practical understanding that foreign policy begins at home.
As with outgoing President Joko "Jokowi" Widodo, the idea of fulfilling Indonesia's potential as a maritime nation plays a prominent role in Ganjar's foreign policy vision. He has promised to pursue more innovative solutions to turn Indonesia into a "global maritime fulcrum," as Jokowi intended, but in the eyes of many failed successfully to fulfill.
This suggests a degree of foreign policy continuity between Jokowi and a possible Ganjar presidency.
But as Ganjar offers "acceleration" as the keyword in all of his visions, he will need to deliberate more on his foreign policy standings. For instance, he has yet to present concrete ways to implement the global maritime agenda in a swift manner.
In the campaign manifesto, their first mission is to pursue a "free and active" foreign policy that allows Indonesia to play a more proactive role in an increasingly multipolar world. Another proposal is to maintain the country's "autonomous" international activism at the bilateral and multilateral levels.
The word "autonomous" here is crucial, as it suggests that the country will not allow international pressure to limit the steps that Indonesia might take to safeguard and advance its national interests. This requires more than just a strong stance, but a comprehensive strategy. In Ganjar's vision, Indonesia's determination to set a foreign policy decision will always come with domestic dynamics. Thus, the vision of preparing the domestic resources to be more assertive internationally is unquestionably crucial.
In terms of the growing U.S.-China rivalry, Ganjar-Mahfud have proposed that Indonesia co-exist with all powers in the pursuit of the country's national interests.
Another interesting line from their vision and mission document is that all international treaties must be fully consistent with Indonesian national interests. This has sparked a little debate among foreign policy observers, on how it could be implemented in practice. Many assume that this means that Ganjar-Mahfud will prioritize domestic interests in their dealings with foreign partners.
On one occasion, Ganjar has also promoted the revitalization of ASEAN as the preeminent regional economic grouping. Like many before him, Ganjar believes that Indonesia's leadership in ASEAN has to go beyond successfully convening events, and that it should take a leading role in determining the bloc's strategic direction.
To pursue these goals, Ganjar has spoken about giving a greater role to Indonesia's diplomatic corps. He has pledged to reform the Ministry of Foreign Affairs and increase its budget in order to magnify the role that Indonesian diplomats are able to play internationally. He promoted the inclusive cooperation among foreign policy agency with multi-sectoral experts to do international negotiation.
During the CSIS session, Ganjar also mentioned other important issues of priority, like fighting terrorism. As a country with a diverse population that is vulnerable to growing identity-based conflicts, Indonesia will need to work with international partners on this.
Meanwhile, on the case of Israel-Hamas conflict, Ganjar is pessimistic that multilateral bodies such as the United Nations can solve the issue. He has encouraged Indonesia to support other nations' initiatives, and to lobby its partners to prioritize the delivery of humanitarian aid.
As the election campaign unfolds, Ganjar-Mahfud will be tested on their understandings of foreign policy issues. Their mission statement, while high-level and normative at this stage, suggests a degree of policy continuity with Jokowi's foreign policy, with some possible variations that will require further elaboration in the months to come.