Can Nepal Find Political Stability?
As Nepal gears up for parliamentary elections, its citizens want two things: stability and development.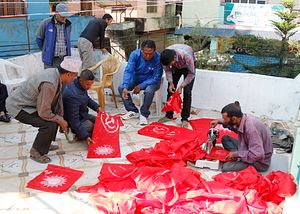 Political parties in Nepal have started campaigning for the upcoming legislative elections, promising to bring peace, development, economic prosperity, and job creation.
The least developed Himalayan country is holding elections for its parliament and provincial assembly simultaneously in two phases on November 26 and December 7. Those elections will fully operationalize the federal system cemented by Nepal's new constitution in 2015, thus marking the concluding chapter of the constitution implementation process that began two years ago.
Local level elections have already been concluded as per the provisions in the new constitution. During that round of voting, the Communist Party Nepal–Unified Marxist-Leninist (CPN-UML), Nepali Congress, and Communist Party of Nepal (Maoist Center) emerged as the first, second, and third party, respectively.
The upcoming election will elect Nepal's federal parliament, which will elect a prime minister, president, and vice president for the country. Provincial assemblies for each of Nepal's seven provinces will also be elected, which will then choose the chief ministers of the provinces.
Nepal has a parallel voting system, which sees different candidates selected in two ways. Under the proportional representation category, in which voters select a party, as many as 6,094 candidates are contesting the federal and provincial elections to be held on November 26 and December 7, according to the Election Commission's publicly released list of PR candidates.
Under first-past-the-post category, in which voters choose a candidate, for the first phase of elections on November 26, 320 candidates of various political parties have filed nominations to contest 37 seats in the federal parliament, and 482 candidates have filed nominations for 74 seats in the provincial assemblies in 32 hilly and mountain districts.
The second phase of elections, to be held on December 7, will see elections take place in another 45 districts. A total of 4,482 candidates are in the fray under the first-past-the-post system for 128 federal and 256 provincial seats, the Election Commission (EC) said on Sunday, as it made public the final list and distributed election symbols to the parties.
While the parties are trying to draw voters' support through political maneuvers, such as forming a "left alliance" and a "democratic alliance," voters are more concerned about development. Essentially, Nepal's people want jobs, health facilities, safe drinking water, education, and road networks, regardless of what party wins in the elections.
In the last three decades, the country has witnessed chronic political instability, including a 10-year violent insurgency, which badly damaged Nepal's development and economy. Today, high-level unemployment persists. According to government data, over 2 million Nepalis were working abroad in 2011, as they could not find employment at home. Young people in particular often go abroad either to study or to work, as they see no future in their country.
As the election date draws closer, there is widespread hope that Nepal will finally embark on a journey of peace and economic development. This is probably the first election in Nepal after the restoration of democracy in 1990 to be largely dominated by social, economic, and development issues instead of political issues.
This time, the parties are trying to attract voters through their development agendas. People are hopeful that after the elections, parties will sideline partisan politics and focus on development as there is no major political agenda for parties to deal with right now.
In particular, Nepalis expect that the seven provincial governments, which will be formed after the elections, will tackle the problems and issues of rural areas. In crafting Nepal's constitution, the parties opted for federalism, believing that a unitary and centralized government is a major obstacle in the country's development process.
In the parliamentary and provincial assembly elections, there will be fierce competition between the "left alliance" of CPN-UML and CPN (Maoist Center) and the ruling Nepali Congress. In Province No. 2, which borders India, there will be a three-way competition among the NC, the left alliance, and Madhes-based parties, regional ethnic parties that have opposed the constitution since it was promulgated in 2015.
The common agenda of all the political parties is advancing economic prosperity and development. Nepal aims to be elevated from least developed country status to a developing country by 2022; the various parties have promised to achieve this goal. In their election manifestos, each party presented a plan for prosperity and development, including commitments to create jobs to tackle growing unemployment. Parties have also made promises to ensure social security and expand health and education facilities.
The Nepali Congress, the current ruling party, has promised to create half-a-million jobs within the next five years if a government is formed under its leadership. Meanwhile, the joint election manifesto of the left alliance, combining the CPN-UML and CPN (Maoist Center), focused on stability, good governance, and economic prosperity. The left alliance claims that under its government, per capita income will reach $5,000 within five years. The alliance also pledged to create a massive increase in jobs for young people.
Nepal adopted a multi-party parliamentary system in 1990, but all the early parliaments were dissolved before they completed their five-year term, leading to political instability in the Himalayan nation. The parliamentary system adopted after 1990 also witnessed several malpractices, including horse-trading.
The last parliamentary election took place in 1999, but the parliament was dissolved in 2001 with the declaration of a state of emergency. For a long period, Nepal remained without any elected body, which sabotaged the governance system.
After the signing of a peace deal with the Maoists in 2006, the first Constituent Assembly (CA) election was held in 2008. A second CA was elected in 2013. The CA also served as a legislature during that time, but its main mandate was writing a new constitution for Nepal. In this sense, the upcoming parliamentary election is Nepal's first in 17 years.
The first and second CAs included more than 30 parties, which was a main cause of government instability. However, the new constitution incorporated some provisions aimed at improving the drawbacks of parliamentary democracy. The number of parties represented in the parliament will thus decrease due to the new law. According to the Election Commission law, parties need to secure three percent of votes in the proportional representation (PR) category and one seat elected through first-past-the-post rules to sit in the federal parliament.
With the formation of new federal and provincial parliaments, there are expectations that Nepal will finally get a stable government that at least will last for at least five years, which will contribute to improving the country's fragile economy. However, political analysts say that the current electoral system will never allow for such political stability. Over the last 30 years, not a single government has completed a five-year term. In fact, the average tenure of a government is one year.
Still, the upcoming elections have created optimism that Nepal is headed toward becoming a stable and prosperous country.
"What we want is houses, road networks, health and education facilities, and employment. We do not care about political ideologies," Nanda Devi Bhual, 60, a Dalit woman from Baitadi District, in far-western Nepal, told The Diplomat.
"We will vote for those parties who help us, provide education for our children, and ensure education of our children," she added. Due to a lack of employment, many younger members of her community are compelled to head to India to find jobs.
More than a dozen local citizens who spoke with The Diplomat in the far-western region, which is less developed than the rest of the country, said that roads, food security, health, safe drinking water, and education are their key priorities. There are several villages in western Nepal that are still untouched by roads and several rivers are without bridges.
Harka Bahadur Bohara, 61, of Syani Rural Municipality in Bajhang District bordering China, said that though parties have promised a lot in the past, they failed to deliver. "We have to walk three hours to get drinking water but there has not been any progress on building water projects," he said. Bohara also said road connectivity is also a major concern for the district.
"In the past, mainly the Maoist party promised to address the issues faced by [our] marginalized community but they did nothing for us," he added.
Kamal Dev Bhattarai is Kathmandu-based writer and journalist. He writes on geopolitical issues mainly focusing on South Asian region. He is closely following Nepal's peace process, constitution drafting, and constitution implementation process.