New Japan PM Planning Visits to Indonesia, Vietnam
Should it eventuate, Prime Minister Suga's ASEAN tour would demonstrate his commitment to predecessor Abe Shinzo's "free and open Indo-Pacific" strategy.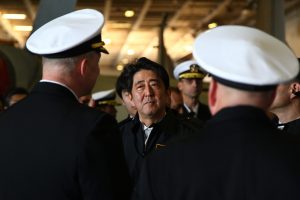 Japan's newly appointed Prime Minster Suga Yoshihide is considering state visits to Vietnam and Indonesia in mid-October, according to Japanese media reports, in a bid to shore up relations with two key Southeast Asian partners.
During the trip, Suga's first outside of Japan since his appointment last month, the Japanese leader is slated to meet with Vietnamese Prime Minister Nguyen Xuan Phuc and Indonesian President Joko Widodo. According to Japanese media reports, leaders are also expected to discuss a plan for lifting travel restrictions imposed due to the COVID-19 pandemic.
While the tour has not yet been confirmed due to pandemic-related uncertainties, it would underline Suga's commitment to predecessor Abe Shinzo's vision of the "free and open Indo-Pacific." Vietnam and Indonesia were also the first countries Abe visited after he began his second stint as prime minister in December 2012.
Suga, Abe's longtime chief cabinet secretary, was widely seen as the Liberal Democratic Party's continuity appointment when Abe resigned for health reasons last month. He has pledged to carry on his predecessor's foreign policy, which struck a careful balance between economic engagement and strategic competition with China, and included a special focus on the Association of Southeast Asian Nations (ASEAN).
In his inaugural news conference on September 16, Suga, said that he would pursue a diplomatic stance "based on a functional Japan-U.S. alliance." Concerned about China's assertive actions in the East and South China seas, both Japan and the United States have been pushing the "Indo-Pacific" concept as an alternative to Chinese hegemony in the region.
Despite the numerous differences between Japanese and American conceptions of the "Indo-Pacific" idea, Southeast Asia occupies a central position in the vision, given its position at the convergence of the two oceans. During the Abe years, the region became a key focus of Japanese diplomacy, especially in mainland Southeast Asia.
Vietnam and Indonesia are important partners for Japan, given their important positions within ASEAN and the fraught relations that both have with China. Under Abe, Tokyo's relations with Jakarta and Hanoi improved considerably, on the back of increased trade, security cooperation and Japanese backing for large-scale infrastructure development. In 2014, Vietnam and Japan announced an "extensive strategic partnership," while Indonesia and Japan have had a strategic partnership since 2006.
In Indonesia, Japanese firms have built a mass rapid transit system in Jakarta, and are also funding ports and highways. For much of the Indonesian public, Tokyo's infrastructure support is a much appreciated alternative to infrastructure funding from China, given the domestic political sensitivities that are attached to the importation of Chinese workers to work on infrastructure projects under the Belt and Road Initiative. Given its large population, archipelagic geography and strategic location, Indonesia is widely seen as a pivotal nation in the emerging "Indo-Pacific" region. It was also the main driver for ASEAN's June 2019 "outlook on the Indo-Pacific," its first official statement on the American and Japanese strategy, in which the bloc vowed to play a "central and strategic role" in the region.
Japan's relations with Vietnam have similarly improved due to the two nations' shared concern about China's growing power and influence. Both countries have active maritime disputes with China – in the East and South China Seas, respectively – and are also bound by long histories of interaction with, and resistance to, the Chinese state. As Hanh Nguyen wrote in these pages last month, bilateral relations have been driven by "the common risks and challenges of living under China's shadow."
Suga's visit, should it eventuate, will be the first step in ensuring that Abe's foreign policy vision lasts beyond his own time in office.