China's Pacific Push Is Already Remaking the Region
After a whirlwind of visits and agreements, where does the Pacific region stand?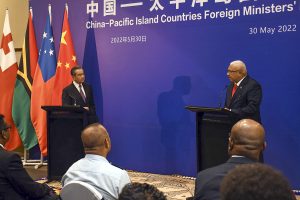 Developments of great significance continue to unfold in the Pacific following China's bold attempt to redraw the region's geopolitical map. China aimed to create a bloc of "China-Pacific Island" countries during Foreign Minister Wang Yi's barnstorming eight-nation tour through the region, which began on May 26 in the Solomon Islands and ended on June 4 in Timor-Leste. Rather than achieving this end, the pressure China has been exerting in the Pacific has triggered a recalibration of regional bonds and domestic realignments, producing a very different Pacific paradigm shift than the one China intended. In all the machinations, Pacific Island nations have strenuously resisted being cast as pawns in this game.
It was only in early February that the Biden administration was coming under fire for "squandering" its Compacts of Free Association advantage in the Pacific, as negotiations between the U.S. and the Federated States of Micronesia, Palau, and the Republic of the Marshall Islands had not progressed since the administration took office in January 2021. Then events started occurring at a rapid pace as COVID-19-related travel restrictions in the region began to ease. The first big trip was made by U.S. Secretary of State Antony Blinken, who visited the region mid-February to signal that the U.S. was indeed a "Pacific nation" and was elevating its regional engagement.
During his short time in Fiji, Blinken was told plainly by Fiji's Deputy Prime Minister Aiyaz Sayed-Khaiyum that the Pacific was weary of being treated as "fly-over countries… small dots spotted from plane windows of leaders en route to meetings where they spoke about us rather than with us." Blinken assured leaders in a Pacific Islands Forum virtual meeting this would no longer be the case and announced the U.S. would be reopening its Solomon Islands embassy, closed since 1993. The White House also released an Indo-Pacific Strategy document that included the islands.
In late March, the Solomon Islands government announced, after a draft was leaked on social media, that it was considering a "Framework Agreement" with China. This far-reaching agreement sent shockwaves through the region. It was clear China had stolen a march on the United States and its ally Australia. China was on the verge of securing a critically important stronghold to stage its Pacific expansion if the unpopular Prime Minister Manasseh Sogavare signed the deal, which would "change everything" in the nation and across the region. Delegations were hurriedly sent from Australia to avert this outcome, and the U.S. announced a high-level visit to take place in a few weeks' time. Before the U.S. delegation arrived, however, the agreement was signed on March 31.
Recriminations came thick and fast, especially in Australia, which was in the midst of a bitter, high-stakes election campaign where national security, climate change policy, and Pacific Islands relations featured prominently. The Morrison government, weakened further by the China-Solomon Islands deal, dialed up its anti-China rhetoric to the point where then-Prime Minister Scott Morrison talked about "red lines" in the Pacific and then-Defense Minister Peter Dutton even told Australians to "prepare for war."
The May 21 election, a resounding loss for the Morrison government, installed new leadership with policies and outreach that have transformed the international perception of Australia, especially in the Pacific. The Anthony Albanese government, bolstered by the stunning win of seven climate action "teal independents" to Parliament, finally addressed the leading issue blocking Australia's relations with the Pacific: climate change. This came with a host of other policies targeting longstanding economic inequities in the islands, such as increasing Australian work visas and creating greater opportunities for Pacific Islanders to live in Australia.
This new message was delivered in person within days of the new Australian government assuming power. Australia's new foreign minister, Penny Wong, was in Fiji days after being sworn into office, delivering a well-pitched speech to the Pacific Islands Forum in Suva. During Wong's visit, Fiji Prime Minister Frank Bainimarama also signed onto the U.S. Indo-Pacific Economic Framework, a big diplomatic win.
Meanwhile China's Wang Yi was beginning his eight-nation tour in the Solomon Islands, which would culminate with the May 30 meeting with the Pacific Islands Forum nations that recognize China (four continue relations with Taiwan), where the peak regional body would collectively decide whether to sign the far-reaching deal. Ahead of this landmark meeting, a letter written by Federated States of Micronesia President David Panuelo and addressed to all Pacific Islands Forum members came to light, urging them to reject China's overture as the agreement entailed "intrinsically tying the whole of our economies and societies to China."
In the closely watched May 30 Pacific Islands Forum meeting, Secretary General Henry Puna delivered the verdict on signing the "China-Pacific Islands Countries Common Development Vision." While acknowledging the importance of China as a partner in the Pacific, the 10 nations would not be signing onto the deal. In some deft diplomacy, Puna instead emphasized China's responsibilities as a Pacific partner nation to up its climate action and "submit enhanced Nationally Determined Contributions, in line with the 1.5 degrees pathway and net zero, by 2050." Wang did not go home empty handed, having signed numerous bilateral agreements on his island stops in what Radio New Zealand characterized as a "slight success."
In a stark reminder of what might have been signed away on May 30, Samoa commemorated 60 years of independence from New Zealand on June 1. Samoa was the first Pacific nation to break free of colonial bonds that China was aiming to revive only days before.
The Pacific, and particularly its valiant journalists, got a taste of a China-dominated reality during Wang's visit, raising questions about the future of press and other freedoms, particularly religious freedoms, with increased Chinese influence across the Pacific.
The great success stories coming out of China's Pacific push have been elsewhere, with the Pacific Islands Forum (PIF) the most outstanding example. The top regional organization had been in troubled waters for months, with fears it would fracture after a bloc of five Micronesian nations threatened to depart. Instead, following China's diplomatic pressure, the PIF has been reborn. The festering problems were resolved when a quorum of leaders met in Fiji on June 7. The result of the meeting, the "Suva Agreement," enshrines a power-sharing agreement where the three subregions – Polynesia, Melanesia, and Micronesia – rotate the PIF secretary general role, supported by two newly created deputy secretary general positions. Also, the agreement created the office of the Pacific Ocean Commissioner, to be based in Micronesia. In the words of Micronesian President, David Panuleo, "a black cloud has disappeared from the Pacific" with the signing of the agreement.
Before this major development, Australia's Wong visited Samoa and Tonga, her second Pacific visit, which again underscored the dramatically different position Australia now finds itself in the Pacific only weeks into a new government. In Samoa, Wong signed the eight-year "Tautua Agreement" with Prime Minister Fiame Naomi Mata'afa on June 2. The sight of two women presiding over this deal signified a new Pacific era in more ways than one. (The glaring issue of gender inequities in Pacific leadership was addressed by the first women's leaders meeting held by the Pacific Islands Forum on June 9.) On June 3, Wong was in Nuku'alofa where she met the Tongan King, Prime Minister Siaosi Sovaleni, and other officials to bolster relations and reaffirm the nations' close ties. Samoans and Tongans make up the largest national contingents of Australia's Pacific communities.
After this trip, Wong joined Prime Minister Albanese on his first overseas visit to Indonesia, where he was welcomed by President Joko Widodo in high style on June 6. The visit again demonstrated relief that Australia has a new government, allowing for an optimistic era in relations. This comes just as tensions with China are rising again in Southeast Asia with news about port construction in Cambodia and a "dangerous" China confrontation with an Australian Air Force plane on patrol in the South China Sea. The latter incident occurred on May 26, as the nations' foreign ministers were commencing their dueling Pacific diplomatic efforts.
Such acts were called out by U.S. Defense Secretary Lloyd Austin in his speech to the IISS Shangri-La Dialogue in Singapore on June 11. While citing rising tensions in the Taiwan Strait, Austin met with his China counterpart, Wei Fenghe, for the first time. Australia's new Defense Minister Richard Marles struck a very different tone toward China than his predecessor during his speech to the summit, saying, "China is not going anywhere and we all need to live together and hopefully prosper together." Marles also met with Wei at the summit, ending a two-year diplomatic freeze between Australia and China.
In stark contrast to the defense outlook of the U.S. and Australia, as stated at this conference, Fiji's Minister for Defense and Policing Inia Bakikoto Seruiratu stressed in a powerful speech that for the Pacific Islands, climate change, still remained the "major concern." Seruiratu said that Pacific Island countries "are not threatened by geopolitical competition" but rather are "fighting for our lives" against "this enemy from many angles."
"The frontlines" for the Pacific have little to do with the latest "hypersonic technology," Seruiratu stressed. Instead they are about combating "cyclones and floods" and also the impact of misinformation during the COVID-19 pandemic that threatened the lives of Fijians.
For New Zealand, recent Pacific events have substantially reinforced the need for it to "up its game" in the Pacific. In this effort, Prime Minister Jacinda Ardern met with President Joe Biden in Washington D.C. on May 31, where they discussed a range of issues from gun control to the United States' new Indo-Pacific Economic Framework (IPEF) announced at the Tokyo Quad Leaders Meeting in Tokyo on May 25. Notably Biden said at their joint press conference that "we have more work to do in those Pacific Islands as well."
Then Ardern met with Albanese, the first foreign leader to be hosted by the new prime minister, on June 10 in Sydney. Gone was the "fraught" relationship Ardern had with Morrison, and in its place was an almost joyous meeting between two friends who nonetheless have some tough work to do on bilateral relations and in the Pacific.
In contrast to Ardern's recent diplomatic wins, Foreign Minister Nanaia Mahuta has sustained some intense criticism at home – from her predecessor no less. Winston Peters, Ardern's first foreign minister, has publicly questioned the wisdom of appointing Mahuta as minister to both foreign affairs and local government. Peters charged that Mahuta is failing to protect New Zealand's Pacific relationships. Mahuta has been foreign minister since November 2020 but has made just one visit to the region, traveling to Fiji in March 2022. In her defense, Mahuta cited COVID-19 restrictions, but as a flurry of plane flights and in-person meetings are taking place in the region, this reasoning has long expired. Plans are underway for Mahuta to right this situation, though details are not yet available.
Given the rush of significant events that have gripped the Pacific in recent weeks, it is almost assured the coming weeks will also be busy. The settling of China's regional deal and the rebirth of the Pacific Islands Forum allow us to focus on known upcoming events, like the Papua New Guinea election slated for July 2-22. Concerns about the outcomes of this election vie with worries about personal safety and the security of results, and the evolution of the largest democracy in the Pacific region after Australia, given recent changes to the electoral map ahead of the vote. More than 100 Australian troops have arrived to assist in this effort.
Also on the agenda is the first in-person PIF Leaders meeting since the pandemic, expected to be held in mid-July. The scheduling continues to be impacted by COVID-19 and ongoing travel restrictions.  When it does convene, it will be the first meeting since 2019. Since then, the Pacific has transformed in a multitude of ways, ensuring an animated and full agenda.
While it might seem there is some breathing room in the Pacific for the time being, much difficult work remains to be done. For Australia and the U.S., continued "listening" to the Pacific is critical. Building relations takes time, the Pacific concept of talanoa, a long process of talking to resolve issues, takes time, effort, and devoted resources. So too does learning about the Pacific in deeper and more substantial ways.
Despite all the demonstrations of interest, Pacific people still need convincing this interest will be sustained. Samoan Prime Minister Fiame Naomi Mata'afa recently criticized the way Indo-Pacific strategies are evolving, saying, "There are times they choose to talk to us and there are times they go on their own." The challenge of making the practice of listening to the Pacific standard operating procedure remains.