Malaysian PM Anwar Calls for Progress on Southern Thailand, Myanmar Conflicts
The Malaysian leader said peace in southern Thailand was "paramount," but that his country "will not condone any sort of violence to resolve any conflict."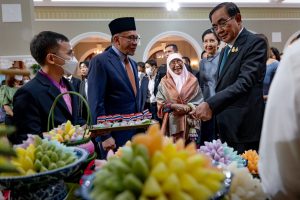 Thailand's southern insurgency and the conflict in Myanmar have dominated Malaysian Prime Minister Anwar Ibrahim's state visit to Thailand this week, his first bilateral visit to the country since taking office in November.
Anwar arrived in Thailand yesterday and met with his Thai counterpart Prayut Chan-o-Cha in the afternoon. The trip followed state visits to neighboring Indonesia, Brunei, and Singapore.
The Anwar-Prayut meeting seems to have been dominated by discussions about the Muslim separatist insurgency in Thailand's southernmost provinces, which abut Malaysia. The conflict has existed in some form for decades, but the separatist campaign escalated in the early 2000s, when rebels began bombing and launching arson attacks on police and military facilities, local government offices, and other symbols of the Thai state. Since then, the conflict has taken the lives of about 7,000 civilians, soldiers, government workers, and rebels.
Speaking to a reporter after the meeting, Anwar said that his government is committed to helping Thailand solve the long-running insurgency, but that his country "will not condone any sort of violence to resolve any conflict."
"We have to appeal to all forces both in Thailand, and in the south and even some in Malaysia, to understand and appreciate that peace must be paramount, of paramount consideration," Anwar said, according to The Associated Press. Malaysia has served at various times as a go-between in peace talks between Bangkok and the separatist organization Barisan Revolusi Nasional (BRN), but these have mostly failed to make much progress.
In early January, Anwar changed the Malaysian facilitator of the peace talks between negotiators representing the Thai government and BRN, and yesterday expressed his hope of reviving the process. The two sides last met in August, and the next round of talks will take place in Kuala Lumpur later this month.
"I come here with a very clear, categorical message that the government of Malaysia will not condone any sort of violence to resolve any conflict," Anwar said. "We will exercise our right as friends … to express our concerns, our legitimate concerns, whilst acknowledging that south Thailand is purely an internal issue within Thailand. But it is our duty as good neighbors and family to do whatever is required and necessary to facilitate the process."
Anwar also urged Thailand to do more to address the conflict in neighboring Myanmar, which has raged since the military seized power in a coup in February 2021. Thailand has been criticized for its policy of engagement with the Myanmar military, which has led it to downplay (or at least refrain from criticizing openly) its recent atrocities, as well as its lack of implementation of ASEAN's Five-Point Consensus peace plan. Anwar said that ASEAN needed to take "coherent, concerted action".
"There's very little we can do except to continue this so-called constructive engagement with the Myanmar junta," Anwar commented, in Prayut's direction. "But I think you are placed, prime minister, in a better position to express many of our concerns."
In December, Thailand was roundly criticized when it hosted Wunna Maung Lwin, the junta-appointed foreign minister, at informal talks that included Laos, Cambodia, and Vietnam, but which were not attended by other ASEAN countries that have been more critical of the military administration. Chief among these has been Malaysia, which under former Foreign Minister Saifuddin Abdullah, advocated that the regional bloc takes more radical steps to address the situation in Myanmar.
Anwar's comments seem to suggest that his government intends to keep up the pressure on Naypyidaw, alongside current ASEAN chair Indonesia – though Thailand's cooperation will be pivotal to any effort.
In addition to addressing these two pressing regional crises, Anwar and Prayut also brokered a number of economic agreements. In a statement, the Thai Ministry of Foreign Affairs said that the two leaders set a goal of achieving $30 billion in bilateral trade by 2025, in part by strengthening linkages between special economic zones in Malaysia's northern states and Thailand's Deep South.
The two sides "reaffirmed their commitment to further deepen the bilateral cooperation and collaboration at all levels, and to seek new cooperation for Thailand-Malaysia border area to become peaceful and prosperous 'Golden Land,'" the statement said.