Thailand, Particularly the Deep South, Needs a Final Reckoning With Thaksin
Former Prime Minister Thaksin Shinawatra is the darling of millions of Thai voters, but his human rights record legacy in the Deep South is as bleak and dismal as his military rivals'.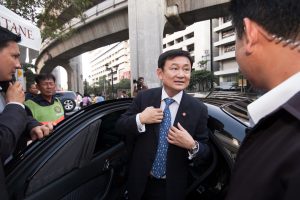 It has been the subject of conversation for years, both celebrated and dreaded by different parts of Thai society. Former Prime Minister Thaksin Shinawatra has claimed for several years that he wants to return to Thailand, a possibility now accentuated by the rise of his daughter Paetongtarn Shinawatra, a prime ministerial candidate for the Pheu Thai Party (PTP) in this week's election. Critics have suggested that his return is unlikely, dismissing his more recent comments as an election year ploy. Yet the rumors and the speculation persist, with Thaksin himself suggesting he will return to Thailand before July 26, his birthday.
That cannot happen, despite the former prime minister being the darling of millions of Thai voters, to whom he has endeared himself through populist policies and the assemblage of an electoral coalition that, without conservative interference, has never been defeated at the polls. Thaksin's potential return excites some, but it would also give ammunition to traditional conservatives in the Kingdom to use his likely imprisonment as a means of creating further division.
Thaksin's legacy is antithetical to the political desires of hundreds of thousands of young Thais, who have felt trapped by both a stalled economy and eight-plus years of largely military rule. He's rich, worth over $2 billion, and has lived a nomadic yet luxurious lifestyle in Dubai, where he owns a palatial mansion in the affluent Emirates Hills area of the city. Plus, young voters fear that a potential Thaksin return would both detract from their reform agenda and potentially trigger another coup d'etat, which would set Thailand back even further from a democratic revival.
But amid all of the rumor and speculation in the Thai and international media about Thaksin's impending return, a significant, marginalized population has been largely ignored – the Malay Muslims of Thailand's Deep South. When violence in southern Thailand escalated in 2004, thousands of people lost their lives, either in the crossfire of the insurgency or at the hands of Thai security forces in Thaksin's infamous "war on drugs." Worse, as many scholars have argued, the uptick in violence in the Deep South occurred at the same time that Thaksin began challenging the "network monarchy" personified by former Prime Minister Prem Tinsulanonda. 
Thaksin's hardline policies and blatant power grab arguably intensified the insurgency, partly because he refused to listen to advice that could have eased southern tensions. Case in point was his dismantling in 2002 of the Southern Border Provinces Administrative Center, an institution that facilitated dialogue between Thai security forces and Muslim religious leaders. Thaksin demolished it simply because it was directly connected to Prem, his rival. 
Many in Thailand still recall his handling of the 2004 Tak Bai incident, where protesters who gathered in front of a police station to object to the detention of six men. Police met them with water cannons and tear gas, and after the crowd began throwing rocks, police opened fire, killing seven people. Worse, some of those subsequently detained were ordered to strip, then, after being exposed all day to the blistering heat, told to get on trucks where they were reportedly beaten. Stacked like cords of wood, many died en route to Inkayut Army Camp in Pattani. Thaksin claimed he took personal control of what was deemed an anti-riot operation. This and the incident at the Kru-Ze mosque, a blatant instance of extrajudicial killing at the hands of overzealous and poorly advised security forces, further polarized tensions between the Muslim south and Buddhist north. 
In Thaksin's long absence, calls for justice have come largely from conservative voices, most often for partisan political reasons rather than genuine calls to hold a blatant, callous abuser of human rights accountable. Opinions from the Deep South about Thaksin's potential reemergence have been ignored in favor of national political theater that feeds largely on speculation and rumors. Thaksin's human rights record in the Deep South was as bleak and dismal as any report issued during Prayut Chan-o-cha's military rule. That was evidenced by the somber 2004 U.S. Department of State Country Report on Human Rights Practices in Thailand, which attested to a climate of impunity, the failure of the government to prosecute those who committed gross human rights abuses, and the growing resentment among Muslims in the conflict-prone south. 
Thailand's security forces, directed by Thaksin, committed direct violations of multiple international treaties, including the International Covenant on Civil and Political Rights, notably Articles 6 and 9, which guarantee life and the right to liberty and security of person. His Emergency Decree, which formally declared martial law in the south, was also out of line with Thailand's 1997 Constitution, and was as draconian and brutal to Muslims as any of Prayut's "emergency" declarations. Section 11(6) of the Emergency Decree gave similar broad powers to Thaksin to "perform any act…that is necessary for maintaining the security of the state." 
Thailand's major opposition political parties, which are supposed to hold the country to a much higher standard, are silent. That's to be expected from the  Pheu Thai Party, which once branded itself with the slogan, "Thaksin thinks, Pheu Thai acts." But it is also true of the supposedly progressive Move Forward Party, which ostensibly fears alienating its potential voter base in the north and in the Bangkok suburbs. Thaksin's return would also likely inflame tensions in southern Thailand and stall any existing dialogue between the parties to the conflict.
No, Thaksin Shinawatra does not deserve a return to Thailand. He should not be used as a political weapon by Thai conservatives, nor should he be welcomed with open arms by his long-time supporters. While Thailand has yet to ratify the Rome Statute, the most suitable place for Thaksin is in an ICC courtroom in The Hague.