Malaysian Court Acquits Former PM Najib in 1MDB Audit Case
The High Court ruling would appear to undermine the claim of the former leader's supporters that the cases against him are politically motivated.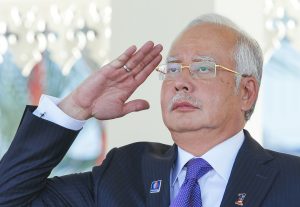 Malaysia's High Court has acquitted former Prime Minister Najib Razak of audit tampering in one of the many cases he faces over a multi-billion corruption scandal at the state investment fund 1Malaysia Development Berhad (1MDB).
Najib, who last year was imprisoned on the first of several corruption trials linked to 1MDB, was found not guilty on the charge of tampering with an audit report to cover up wrongdoings, judges ruled.
The court ruled that prosecutors did not have sufficient evidence to prove Najib guilty of abusing his power as prime minister and finance minister to order amendments to the 1MDB audit report in 2016, before its submission to parliament, his defense lawyer Mohamad Shafee Abdullah told reporters after the hearing.
"My client is very grateful to Allah for the decision today because it really uplifted his spirit and the desire to fight for his innocence," Shafee said, according to The Associated Press.
Last August, the High Court dismissed Najib's final appeal against his 2020 conviction on seven charges including abuse of power, criminal breach of trust, and money laundering for illegally receiving $9.4 million from a former unit of 1MDB, and ordered him to begin a 12-year prison sentence. U.S. and Malaysian investigators estimated that around $4.5 billion was siphoned from 1MDB between 2009 and 2014 by high-level officials of the fund and their associates.
The acquittal is a win for Najib, who has consistently maintained his innocence, and vowed to fight the remaining 1MDB-related charges against him. At the same time, it would seem to undermine the arguments, made openly by the former leader's supporters and in a more veiled way by his defense counsel, that Najib's prior conviction was politically motivated.

Since his prosecution, Najib's supporters within the ruling United Malays National Organization (UMNO) have agitated for a royal pardon, on the grounds that the government was pursuing a political vendetta against him. Ahmad Zahid Hamidi, the head of UMNO and formerly Najib's deputy, has also described Najib as "a victim of political persecution." (By a twist of political happenstance, UMNO is now a part of Anwar's coalition government). Najib's lawyers have also petitioned the United Nations Human Rights Council Working Group on Arbitrary Detention, arguing that the Federal Court "failed to accord" their defendant "a reasonable opportunity to argue his case and denied his lawyers adequate time to prepare it." Yesterday, they described the charges against Najib as "politically charged."
It is true that current Prime Minister Anwar Ibrahim is taking action to crack down on corruption, which last month saw the Malaysian Anti-Corruption Commission freeze bank accounts belonging to the opposition party Bersatu. It is also true that Anwar was a staunch opponent of Najib during his time in power, as was Mahathir Mohamad, who initiated the 1MDB cases after coming to power in 2018.
But none of this substantiates the claim that the courts have displayed any obvious bias against Najib.If the High Court was taking orders from the executive branch, it is not clear why it would choose to acquit the former premier in this case rather than add to his heft prison term. A simple application of Occam's Razor would suggest that the courts are simply ruling on the available evidence, which in this case was insufficient to convict.
The former leader's sentencing last year was hailed by many, including this writer, as a landmark moment for Malaysia's judiciary, and a sign that the rich and powerful could no longer bank on impunity. The fact that the judges would acquit the same leader in a separate case connected to the 1MDB scandal in the absence of inculpatory evidence only underscores the perception of the courts' independence, and hence the finality and legitimacy of the first verdict.