Taipei Mayor Chiang Wan-an Travels to Shanghai for Twin City Forum
It's Chiang's first time attending the annual forum, which landed his predecessor (and current presidential hopeful) Ko Wen-je in controversy at times.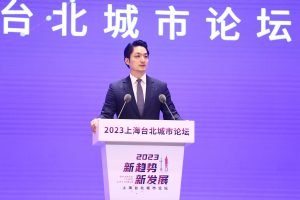 Taipei Mayor Chiang Wan-an traveled to Shanghai this week for a three-day visit for the Taipei-Shanghai Twin City Forum. The Twin City Forum takes place annually, though recent years have seen forums take place virtually due to the effects of the COVID-19 pandemic. 
Chiang, at age 44, is one of the rising stars of the opposition Kuomintang (KMT), as one of the comparatively younger politicians of a party that has otherwise struggled to find footing among Taiwanese young people in past years. Chiang claims to be the great-grandson of Chiang Kai-shek, descended from a child born out of wedlock. Chiang and his father, former legislator John Chiang, changed their last name from Chang when they decided to pursue running for office. 
Chiang has stated that he was unaware of his heritage until he was a teenager. Though some have disputed whether he is genuinely descended from Chiang Kai-shek, this is rarely questioned seriously, even by the pan-Green camp. 
The Taipei-Shanghai Twin City Forum first began to take place in 2010 under the auspices of then-Taipei Mayor Hau Lung-bin of the KMT. This was during the administration of President Ma Ying-jeou, also of the KMT, which attempted to advance economic and cultural ties between Taiwan and China through trade agreements such as the Economic Cooperation Framework Agreement (ECFA) and Cross-Strait Services Trade Agreement (CSSTA). 
The Twin City Forum continued to take place under independent Mayor Ko Wen-je, who later became chair of the Taiwan People's Party, one of the significant third parties in Taiwanese politics. This proved controversial; during the exchanges, Ko annually reiterated the political formula that "both sides of the Taiwan Straits are one family, which share a common destiny." 
Although Ko was elected as an independent in 2014 with the endorsement of the Democratic Progressive Party (DPP), Ko is perceived as having shifted in political orientation to the pan-Blue camp since then. Ko's framing of the Twin City Forum was a major factor as to why he came to be seen less favorably by the pan-Green camp over time. Green-leaning critics accused Ko of catering to the Chinese United Front's efforts to win over Taiwan, by way of Shanghai. 
A decisive breaking point for the pan-Green camp with Ko may have been when pro-independence student demonstrators were attacked by pro-unification gangsters on the campus of National Taiwan University in 2017. The students had been protesting during a singing competition that was held as part of city-based exchanges between Taiwan and Shanghai. After the incident, the Taipei city government was accused of undertaking a cover-up.
For Chiang, who was elected in 2022, the Twin City Forum was a rare moment to make national headlines at a time that the news cycle is otherwise preoccupied with presidential and legislative elections. Chiang is not running this year, as a result of which the spotlight has more often been on presidential candidates of the pan-Blue and pan-Green camps. 
Further brightening the spotlight, this was also the first time that the Twin City Forum was held as a physical event in three years, the forum having been virtual from 2020 to 2022. Ko's final Twin City Forum in 2022 was particularly scaled down, having been made a half-day event after Taipei Deputy Mayor Tsai Ping-kun – the main organizer of the event – had a stroke shortly before the forum was to take place. 
Chiang met with his Shanghai counterpart, Gong Zheng, during the visit. Chiang's mayoral administration has touted the trip as a success, saying 45 MOUs were signed between Taipei and Shanghai, pertaining to culture, tourism, and sports. Among these MOUs, the most attention has gone to three MOUs signed regarding carbon reduction, exhibitions, and badminton. 
Chiang and Gong's dialogue also touched upon exchanges between Taipei and Shanghai's respective zoos, as well as allowing for agricultural trade between Taiwan and Shanghai. Chiang's trip took place about a week after China announced bans on Taiwanese mangoes. While the Chinese government claimed that pests were found in shipments of mangoes from Taiwan, the Taiwanese government alleged the ban to be politically motivated, as a way to pressure Taiwanese farmers before the 2024 presidential elections. Furthermore, the ban was announced shortly after the Chinese government accused Taiwan of unfair trade practices for banning some Chinese products. 
Chiang's visit takes place at a time when the pan-Blue camp has begun to call for revitalizing trade agreements with China such as ECFA and the CSSTA. As such, ECFA was referenced in the Twin City Forum as an example of what positive exchanges between Taiwan and China could look like.
Political opponents frame the Tsai administration as unwilling to engage in economic engagement with China, and further stoking tensions with China in this way. The pan-Blue camp is calling for reviving Ma administration-era economic policies with China – even though these overtures stoked protest at the time, such as the 2014 Sunflower Movement or the 2008 Wild Strawberry Movement. 
During his time in Shanghai, Chiang did not make any controversial statements along the lines of Ko's "One family on both sides of the Taiwan Straits," though he did make comments about the similarities between Taipei and Shanghai. Nor did Chiang lean into his claimed heritage as a descendant of Chiang Kai-shek during the trip, even though this could have given his visit a unique political resonance that would have drawn a great deal more attention. 
However, Chiang was likely hoping to avoid giving the pan-Green camp any political ammo with which to attack the KMT in a presidential election year. Tellingly, to avoid such criticisms, Chiang did not meet with Song Tao, the director of China's Taiwan Affairs Office, despite pre-trip speculation. This did not prevent criticisms of Chiang from the DPP, with DPP Taipei city councilor Chien Shu-pei criticizing Chiang for failing to mention the Republic of China during his trip. 
Taipei city councilor Chin Hui-zhu, who accompanied Chiang, defended him with the assertion that Chiang Kai-shek era Minister of National Defense Yu Da-wei was mentioned during the forum. According to Chin, this meant that the ROC army was discussed, which counted as an assertion of the ROC's sovereignty. 
Pan-Green critics of the KMT also noted that the People's Liberation Army continued exercises aimed at intimidating Taiwan in the same timeframe as Chiang's visit to Taiwan. This included Chinese fighter jets crossing the median line of the Taiwan Straits and naval exercises on the day that Chiang set out for China. 
During Ko's mayorship, pan-Green Taipei city councilors had called for suspending the budget for the Twin Cities Forum if China continued military threats directed at Taiwan. Chiang himself had stated in the past that city-based exchanges between Taipei and Shanghai should only take place if China did not threaten Taiwan. It is to be expected that Chiang will continue to face such criticisms.