A Football Game Amid the Sorrows of Life on the Kyrgyz Border
On a hot summer day, the women of Kök-Tash took a break to play football. It was a rare joy amid a difficult life on the border.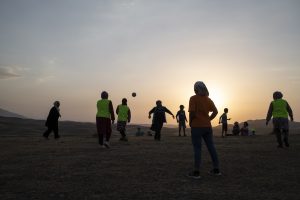 July was a rare time of joy in Kök-Tash, a small village in the Leilek district of Batken region in southern Kyrgyzstan, a mountainous country in Central Asia. That month, a football tournament was held, a tournament unique in the country. At the foot of the mountains, Kyrgyz women wearing hijabs and sneakers played football, forgetting about the sorrows of daily life at the Kyrgyz-Tajik border.
Football
Eighty-seven women prepared for the tournament. Divided into 10 teams, they trained for months, some of them secretly, so that the competitors wouldn't discover their tactics. The internet was their main coach. The youngest players, in their 20s, breastfed their babies during breaks. The eldest, 63 years old, is a grandmother of 10, and boasted how sport helped her fight high blood pressure. 
On the tournament day emotions were running high. A player from the national football team, Aydana Otorbaeva, had flown in from Bishkek, the capital city, to hand out the medals and prizes: $110 to share for the first-place team, and $90 for the second and third. A referee from the Kyrgyz Football Federation officiated the matches. He was one of few men allowed to watch the games; husbands and adult male relatives were banned from the stands. Women played in trousers and T-shirts. Even if they wore a head covering, many religious Muslims consider their football attire to be inappropriate or haram. 
Sporting a headscarf and sun sleeves to protect her skin from the scorching sun, Danagul Abdiraimova stood at the goal line. She clapped her gloves nervously, waiting for the final whistle. A year ago, she was the best goalie; this year she was unable defend the title. 
There was a car waiting for her in the street. A woman from the village had her water break prematurely, and Abdiraimova, a nurse, had to take her to the hospital in town. There is no maternity ward in the village. If things went fast, Abdiraimova would be able to deliver the baby in the car, but she hoped to avoid that because of possible complications.
44-year-old Danagul Abdiraimova is one of three nurses in Kök-Tash, a village of nearly 4,000 inhabitants. Her tasks exceed those of a typical nurse, as does her work schedule. On weekdays, from 8 a.m. to 5 p.m., Abdiraimova is at the clinic. Before and after her normal hours she is on call non-stop. Patients come to her home for injections or a drip-feed. For emergencies or bed-ridden patients, she hurries at night through streets engulfed in darkness to tend to them. 
For this work, Abdiraimova receives 6,500 Kyrgyz som ($73) a month.