Indo-Pacific Biden­omics: The Emergence of a New Economic Order
The upcoming APEC summit in San Francisco will be a visible culmination of the work that has gone into making economic engagement the leading edge of diplomacy.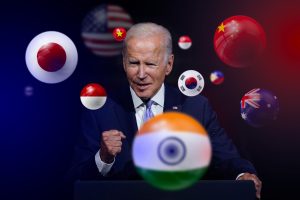 The Biden administration has been making every effort to demonstrate its commitment both to the Indo-Pacific region in general and to its economic statecraft in particular. So far, that effort includes the development of a new economic standards framework, infrastructure initiatives, and implementation of new legislation to lure investment into the United States and address national security and foreign policy issues around technology and natural resources. Washington is no longer solely focused on military and diplomatic strategy; economic engagement has become the leading edge of diplomacy, something that has been a long time coming for the Indo-Pacific.
The upcoming Asia-Pacific Economic Cooperation (APEC) summit being held in San Francisco from November 15 to 17 will be a visible culmination of the work that has gone into these efforts. APEC San Francisco will aim to show that summits and high-level visits are not all talk but have had tangible outcomes as well. The Biden administration will have to show in the last year of its first term (and beyond) the durability and commitment of these arrangements. The commitments being made now must last through successive administrations or changing political winds.
Pendulum Swing Away From Trade Agreements
Since the Trump administration (2017-2021), U.S. economic strategy with respect to Asia has focused on countering China and bringing jobs back to the United States. This has also manifested in questioning the meaning and utility of the liberal rules-based order born out of the end of World War II, which had brought relative global stability and economic growth. Today, however, there are increasing questions as to whether the Bretton Woods system still applies to the 21st century world. 
There has been no greater visible manifestation of this shift in focus then the U.S. withdrawal from the Trans-Pacific Partnership (TPP), a trade agreement negotiated under former President Barack Obama.
When then-President Donald Trump withdrew the U.S. from the TPP shortly after taking office, it was a rare instance of Democrats agreeing with him. Sanders issued a statement saying, "For the last 30 years, we have had a series of trade deals – including the North American Free Trade Agreement, permanent normal trade relations with China and others – which have cost us millions of decent-paying jobs and caused a 'race to the bottom' which has lowered wages for American workers."
That sentiment has not changed much in the Biden administration, which continues to have an uneasy relationship with trade even as it wants to have a liberal rules-based order where countries abide by an agreed upon set of frameworks, principles, and regulations.