Reclaiming Culture and Identity as a Central Asian Adoptee 
As a generation of Central Asian adoptees enter adulthood in the United States, their personal quests for identity sit side-by-side with discussions of decolonization.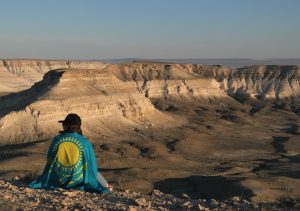 "Really? From here? You are so lucky…" The market seller's maternal instincts seemed to overtake all intentions of haggling as she dropped several souvenirs into my hands and looked at me with amazement and pride. A Kazakhstan-born orphan, adopted to German and American parents, back here in Kazakhstan? She said now she knows fate exists.
It's a familiar story for many adoptees. Answering the question "Where are you from?" is complex, and can leave people so bewildered that they cannot hide their intrigue and shock. Central Asian adoptees live in the space between nations and, through their identities, serve as diplomats to family, friends, and colleagues, a living reminder of the reality that as distant as Central Asia is from the United States, these two worlds are closer than we think.  
The U.S. Department of State has recorded 6,801 adoptions from the five Central Asian republics to the U.S. since 1999, with 94 percent coming from Kazakhstan and 88 percent of total adoptions occurring between the years 1999 to 2008. The marked decline in adoptions from Central Asia is in line with international trends as inter-country adoption becomes more expensive and pressure grows from international organizations and national governments. Inter-country adoption is no longer a preferred solution for orphaned children, with governments and communities shifting focus to addressing, domestically, the issues that lead to orphaned children, like poverty and limited resources for parents of children with disabilities.
In Central Asia, the conversation is no different. A few accredited U.S. adoption service providers still operate programs in Kyrgyzstan and Kazakhstan, but inter-country adoptions are lengthy and largely isolated to children with disabilities or severe medical issues, for whom adoption provides a pathway to family-based care. 
But for the generation of early-2000s Central Asian adoptees now coming into adulthood in the United States, the advent of social media and adoptee support groups has encouraged greater dialogue about their identities and experiences. Trying to reconcile tangled identities and the quest to know more about one's birth culture and adoption can be complex, exhausting, and even traumatic for some. This exploration for adoptees to understand their complete identity is not dissimilar for people in the Central Asian republics currently discussing decolonization, with both wondering how their connection to Central Asia has been complicated by language, ethnicity, and history. 
For adoptee Almira, this journey now inspires her work as a K-8th grade art teacher at a world language school in Colorado.
"Not only do I get to share my passion for art," she said. "I also get to speak my native language. I feel like I have come full circle and have truly found my calling."
As a Kazakh-Tatar adoptee from Petropavlovsk, Kazakhstan, Almira was adopted by American parents when she was 14. Growing up in newly independent Kazakhstan prior to her adoption, she went to elementary school in Russian, learned the Kazakh language as a foreign language, picked up Tatar here and there from her biological grandmother, and observed a mixture of Muslim and Orthodox celebrations around her.
Yet, like many adoptees, Almira struggled to find a way to communicate the complexities of this diverse upbringing. Like many facing the decolonization discussion now in Central Asia, adoptees like Almira are recognizing how legacies of language and history influence the way we speak about ourselves and our experiences. 
"When I first came to the United States, I even told people I was from Russia simply because I spoke the language and more people knew where Russia was. Then I realized just how silly that was because firstly, I've never even been to Russia, and secondly, I was just giving an easy answer to accommodate people around me," she said. "Now I just stick with the truth, even if it confuses people sometimes."
For Josh – a Tajik adoptee from Russia raised in a Cajun-German Louisiana home – his adoption inspired him to learn more about Tajik culture and share it with others. Through his Instagram account tajiknamedjosh, Josh has shared about Tajik fashion and cuisine, as well as Central Asian history more broadly, with his followers. He took them also on a recent trip to Tajikistan. 
"I always had a deep sense of culture, and that deep sense and understanding that culture exists and that people have culture made me interested in my own," Josh explained.
For his followers, many of whom are themselves Central Asians or Central Asian adoptees, his content is more than "just Tajik culture," but reflects a distinct thoughtfulness around understanding identity and discovering one's own culture – where we each fit into the many cultures that surround us. With the topic of decolonization in Central Asia becoming more polarized and at the same time discussion about it becoming more nuanced, Central Asian adoptees might offer a perspective worth drawing upon. 
"The word 'decolonization' is an interesting word because it's sort of centralized around the colonizer." Josh said. "I like the word 'reclaiming' more and 'reclaiming the culture that's already in you.' For me, I like to reclaim myself and reclaim my identity… the interconnectedness of our identities is something to inspire us and be an opportunity to have an open mind."
Even for myself, as a Russian adoptee from Kazakhstan raised in the United States and Germany, some of the questions that arise around decolonization in Central Asia sit parallel to what many adoptees must work through to understand themselves and their own culture. For instance, for many Central Asian adoptees, learning the Russian language has often served as an entry point into learning about Central Asia – whether through their personal experiences like Almira or their education in the United States like Josh and myself – adding another layer to how adoptees understand their connection to their birth countries while at the same time wrestling with their birth countries' own complex histories.
The plethora of hyphenated adjectives and "to's and from's" might seem excessive, but for Central Asian adoptees like Almira, Josh, and myself, one's language, ethnicity, and origin cannot be summarized in one word, in one place. This very complexity truly showcases the beauty of both adoption and Central Asia.
With November as National Adoption Awareness Month, taking time to celebrate the numerous Central Asian adoptees living in the United States and elsewhere may be an opportunity to further our conversations around identity, decolonization, and Central Asia's role in the world.